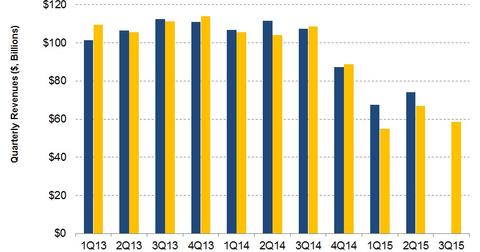 Why Are ExxonMobil's 3Q15 Revenue Expectations Bearish?
By Alex Chamberlin

Updated
ExxonMobil's quarterly adjusted revenue
We discussed ExxonMobil's (XOM) market performance earlier. In this part, we'll discuss ExxonMobil's 3Q15 revenue expectations. We'll compare ExxonMobil's revenue performance against analysts' estimates.
For 3Q15, analysts' consensus revenue estimate for ExxonMobil is $58.5 billion. This is 21% lower than its 2Q15 revenue and 46% lower than its 3Q14 revenue. Between 1Q13 and 3Q14, ExxonMobil's revenue was relatively steady. It rose 6%. Since then, it has been falling. From 3Q14 to 2Q15, ExxonMobil's revenue fell 31%.
Article continues below advertisement
ExxonMobil's revenue versus estimates
As noted in the above graph, ExxonMobil's adjusted revenue exceeded estimates in most of the quarters in the past. On average, the adjusted revenue outperformed the consensus revenue by 1.7% in the past ten quarters. In 2Q15, the adjusted revenue exceeded the consensus revenue by ~11%.
Let's compare ExxonMobil and BP (BP)—an integrated energy major in the United Kingdom. In 2Q15, BP recorded $60.6 billion in revenue compared to $74.1 billion for ExxonMobil. Compared to a 46% expected revenue fall for ExxonMobil in 3Q15 over the year-ago quarter, BP's 3Q15 revenue is expected to fall by 47% compared to 3Q14. ExxonMobil accounts for is 1.9% of the SPDR S&P 500 ETF (SPY).
Why ExxonMobil's 3Q15 revenue could go lower
WTI (West Texas Intermediate) crude reflects US producers' price. It fell nearly 20% between July and September this year. In comparison, WTI prices rose 21% from April to June. The lower price realization in 3Q15 will negatively affect ExxonMobil's upstream revenue. The downstream will be affected by the fall in refining product prices that broadly track crude oil prices. However, downstream's profit margins are driven by crack spreads. We'll discuss this in the next part.
In 2Q15, ExxonMobil's revenue fell primarily due to lower price realizations in the upstream segment. It was partially offset by better downstream and chemical segment performances.
We'll discuss ExxonMobil's earnings in the next part.