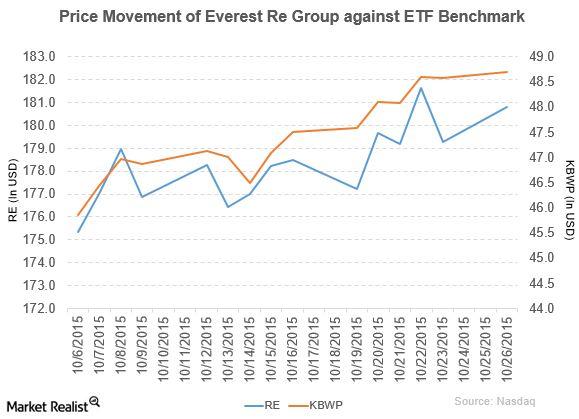 Everest Re Group's Revenue and Income Fell in 3Q15
By Gabriel Kane

Nov. 20 2020, Updated 2:24 p.m. ET
Everest Re Group's price movement
Everest Re Group (RE) has a market capitalization of $8.0 billion. Everest's YTD (year-to-date) price movement has been a mix of ups and downs thusfar in 2015.
After its 3Q15 earnings report, Everest rose by 0.85% to close at $180.80 per share as of October 26, 2015. The stock's price movements on a weekly, monthly, and YTD basis are 2.0%, 4.0% and 7.9%, respectively.
Technically, the stock has broken the support of its 20-day and 50-day moving averages, and sometimes of its 200-day moving average, throughout 2015. Currently, it's trading at 2.4% above its 20-day moving average, 2.6% above its 50-day moving average, and 1.4% above its 200-day moving average.
The PowerShares KBW Property & Casualty Insurance ETF (KBWP) invests 3.6% of its holdings in Everest Re Group. The ETF tracks a market-cap–weighted index focused exclusively on property and casualty insurance companies.
The ETF's YTD price movement is 15.0% as of October 23, 2015. The SPDR S&P Insurance ETF (KIE) invests 2.1% of its holdings in Everest.
Everest Re Group's competitors and their market capitalizations are as follows:
Article continues below advertisement
Performance of Everest Re Group in 3Q15
Everest Re Group reported net revenue of $1,375.2 million in 3Q15, a fall of 4.2% when compared to its net revenue of $1,435.8 million in 2Q15. The company's revenue from premiums earned rose by 6.1%, and its revenue from net investment income fell by 7.6% in 3Q15.
The company's net income and EPS (earnings per share) fell to $107.6 million and $2.00 per share in 3Q15, falls of 54.3% and 57.3%, respectively, on a quarterly basis.
Its short-term investments fell by 15.1%, and its cash rose by 18.4% in 3Q15 on a quarterly basis. Its debt-to-equity ratio rose to 1.79 in 3Q15 as compared to its debt-to-equity ratio of 1.68 in 2Q15.
In 3Q15, Everest Re Group declared a dividend of $0.95 per share on its common stock. The company also appointed three key persons in 3Q15:
Connie Germano was appointed to lead the company's US Speciality Casualty Operation, responsible for the continued build out of Everest National's primary casualty, umbrella and excess, and environmental units.
Tom Morelli was appointed to lead Energy Casualty Group. Morelli has over 20 years of experience with AIG (American International Group) in a variety of leadership roles.
Michael Karmilowicz was appointed to lead Everest Speciality Underwrites (ESU), the management and professional liability unit of the company's US Insurance Operations.
The Lloyds Franchise Board has provided its "in principle" approval for the creation of Everest Syndicate 2786. This will be managed under a turnkey arrangement by Asta Managing Agency, a third-party provider of key management services to start-up syndicates.
About Everest Re Group
Everest Re Group is a Bermuda holding company. It operates through its subsidiaries:
Everest Reinsurance Company – provides reinsurance to property and casualty insurers.
Everest Reinsurance (Bermuda) – provides reinsurance and insurance to property and casualty markets and reinsurance to life insurers.
Everest Reinsurance Company (Ireland) – provides reinsurance to non-life insurers in Europe.