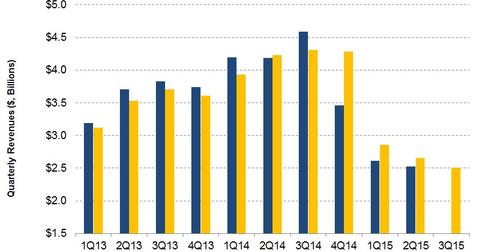 Why Are EOG Resources' 3Q15 Revenue Expectations Steady?
By Alex Chamberlin

Updated
EOG Resources' 3Q15 revenue expectations
We discussed EOG Resources' (EOG) market performance earlier. In this article, we'll discuss EOG's 3Q15 revenue expectations and compare its revenue performance against analyst's estimates.
In 3Q15, the analysts' consensus revenue estimate for EOG Resources is $2.5 billion. This is a marginal 0.7% lower than its 2Q15 revenues, but 45% lower than 3Q14 revenues. Between 1Q13 and 3Q14, EOG Resources' revenues moved upwards, rising 44%. However, since then, it has been falling. From 3Q14 to 2Q15, EOG Resources' revenues fell 38%.
Article continues below advertisement
EOG Resources' revenues versus estimates
As noted in the graph above, EOG Resources' adjusted revenues have nearly matched estimates in most quarters in the past. On an average, adjusted revenues have fallen short of consensus revenues by just 0.6% in the past ten quarters. In 2Q15, adjusted revenues exceeded consensus revenues by 5%.
Let's look at how EOG stacked against Concho Resources (CXO), a Permian Basin-based independent upstream energy producer. In 2Q15, Concho recorded $649.7 million revenues, compared with $2.7 billion for EOG Resources. Compared with a 45% expected revenue fall for EOG Resources in 3Q15 over the year-ago quarter, Concho's 3Q15 revenue is expected to fall by 13% compared to 3Q14. EOG is 0.3% of the SPDR S&P 500 ETF (SPY).
Why EOG's 3Q15 revenues could go lower
As WTI (West Texas Intermediate) crude oil prices and natural gas prices have continued to remain weak in 3Q14, EOG's average realized prices are also expected to decline in 3Q15. Lower price realization in 3Q15 will affect EOG Resources' upstream revenues negatively.
Plus, EOG expects lower volume in 3Q15 compared with 2Q15. Lower volume and lower energy prices combined is expected to bring 3Q15 revenues lower. Read the next part of this series, where we'll discuss EOG Resources' expected 3Q15 volume and average realized prices in more detail.
Investors may note that in 2Q15, the company recorded $2.5 billion net operating revenues, down 41% from $4.2 billion in 2Q14. EOG's revenues for the quarter fell due to lower crude oil, natural gas, and NGLs (natural gas liquids) production, and lower price realizations.