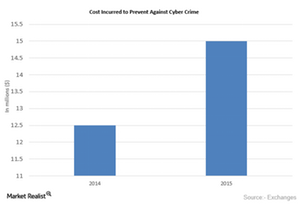 Why Enterprises Increase Spending on Cybersecurity
By Parker Thomas

Oct. 13 2015, Updated 11:55 p.m. ET
Security spending increases along with the threat intensity
Businesses have become more complex to provide suitable solutions to their clients in the form of goods and services. This leads companies to take preventive measures against cyberattacks. The PureFunds ISE Cyber Security ETF (HACK) could grow in the long term. Companies increased their spending to defend against cybersecurity attacks. The attacks are growing consistently. In 2015, the sixth-annual study by the Ponemon Institute and Hewlett-Packard disclosed drastic growth in US enterprises' overall spending to protect against advanced cyberattacks.
Article continues below advertisement
Researchers have found that US enterprises' annual cost to prevent cyberattacks is around $15 million. This is a rise 20% over 2014 and 82% over the six-year period. Also, the average time that it takes to resolve the issues rose to 46 days. A rise of 30% over the six-year period indicates that the intensity of the attacks has increased.
Investment in new technologies
According to the study, organizations increased their spending to protect against cyberattacks. The budgets rose from 20% to 33% two years ago. In an attempt to implement new technologies, organizations to expand their strategic control to a more advanced level that protects sensitive data and applications.
"As organizations increasingly invest in new technologies like mobile, cloud, and the Internet of Things, the attack surface for more sophisticated adversaries continues to expand. To address this challenging dynamics, we must first understand the threats that pose the most risk and then prioritize the security strategies that can make a difference in minimizing the risk," said Sue Barsamian, Hewlett-Packard's (HP) senior vice president and general manager.
The Technology Select SPDR ETF (XLK) is a portfolio of 47 stocks. XLK's top four stocks are Apple (AAPL), Microsoft (MSFT), Facebook (FB), and Google (GOOG). They account for 16.4%, 8.9%, 4.8%, and 4.8% of XLK, respectively.