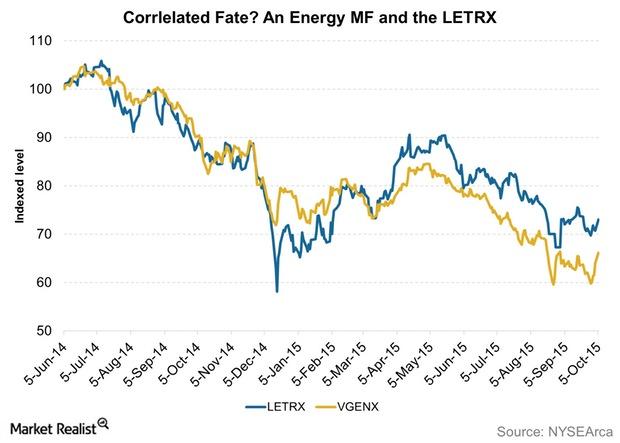 Energy Export Dependency Hurt the Russian Economy
Dependence on oil and gas exports
The Russian economy is dependent on oil and gas exports. Because of this, looking at terms of trade for Russia is important.
Terms of trade provides the value of a country's exports relative to its imports. This number is expressed in a percentage. A value of greater than 100% implies that a country is exporting more than it is importing in value terms. On the other hand, if the terms of trade percentage is below 100%, it means that the value of imports is higher than the value of exports.
The graph above shows the movement of the Voya Russia Fund – Class A (LETRX) with the Vanguard Energy Fund (VGENX).
Article continues below advertisement
Terms of trade shock
According to the World Bank, the Russian economy experienced a terms of trade shock as commodity prices, especially those of energy products, tanked in the latter half of 2014, and the fall continued in 2015.
According to the World Bank's report on Russia titled "Balancing Economic Adjustment and Transformation," terms of trade losses for Russia are "likely to amount to -6.9 percent, resulting in a drop in gross domestic income of 10.7 percent" in 2015.
Crude oil exports have been severely hurt. According to the Central Bank of Russia, crude oil exports were valued at $174 billion in 2013. This value fell to $154 billion in 2014. In 1Q15, Russia exported crude oil worth $23 billion, down a staggering 41% from 1Q14.
The value of crude oil exports fell sharply even though the volume of exports rose to 59 million tons in 1Q15, up ~13% from the same period a year ago.
Impact on companies and investments
Sluggish global demand coupled with a fall in energy prices have taken a toll on Russian oil and gas companies such as Public Joint Stock Company LUKOIL (LUKOY), Public Joint Stock Company Gazprom (OGZPY), Open Joint Stock Company Surgutneftegas (SGTZY), and Tatneft (OAOFY).
A fall in other commodities will be detrimental to companies such as Public Joint Stock Mining and Metallurgical Company Norilsk Nickel (NILSY).
Russia's Economy Ministry expects gas production at Gazprom, the world's largest natural gas producer, to fall to 414 billion cubic meters, an all-time low, in 2015.
Stocks of the five companies mentioned above form a sizable 31.5% of the Voya Russia Fund – Class A. A fall in revenue for these companies would mean a sizable hit to the fund's fortunes.
In the next article, let's take a look at how the Russian population and currency have been impacted recently and what lies ahead for Russia.