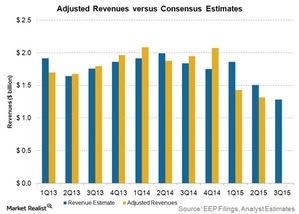 Why Are Enbridge Energy Partners' 3Q15 Revenue Estimates Low?
Enbridge Energy Partners' revenue estimate for 3Q15
The consensus revenue estimate for Enbridge Energy Partners (EEP) for the third quarter of 2015 is $1.3 billion. Enbridge Energy Partners missed revenue estimates by 12.6% in the second quarter of 2015. Peers Plains All American Pipeline (PAA) and ONEOK Partners (OKS) missed 2Q15 revenue estimates by 11% and 23%, respectively. Spectra Energy Partners (SEP) and Energy Transfer Partners (ETP) beat 2Q15 revenue estimates by 1.2% and 16.8%, respectively.
Article continues below advertisement
Comparison of ten quarters
The chart above shows the revenue estimates and adjusted revenues that Enbridge Energy Partners earned over ten quarters. The revenue estimates for the third quarter are 2.5% lower than its 2Q15 adjusted revenues. The estimates are 26% lower than Enbridge Energy Partners' 3Q14 adjusted revenues. Enbridge Energy Partners exceeded revenue estimates in six out of the past ten quarters.
Why are estimated 3Q15 revenues low?
Enbridge Energy Partners' 2Q15 revenues fell due to a fall in natural gas and NGL, or natural gas liquid, production volumes. The fall in volumes is primarily attributable to the continued low price environment for natural gas, NGLs, and condensate. This has resulted in reductions in producers' drilling activity in Enbridge Energy Partners' areas of operations. Enbridge Energy Partners expects prolonged reductions in drilling in the areas where it operates. This will likely negatively impact its revenues in 3Q15.
Enbridge Energy Partners' natural gas assets are primarily located in Texas and Oklahoma. Its natural gas assets are owned by Midcoast Energy Partners (MEP). Enbridge Energy Partners owns 48.4% of Midcoast Energy Partners.
The revenue estimates for 3Q15 are lower compared to 2Q15 revenues, a deviation from usual expectation of a relatively low second quarter for MLPs with operations in the natural gas segment. Enbridge Energy Partners forms ~1.6% of the Global X SuperDividend US ETF (DIV).
Next, we'll see how the estimated 3Q15 revenues and associated costs are expected to impact Enbridge Energy Partners' EBITDA, or earnings before interest, taxes, depreciation, and amortization, in the quarter.