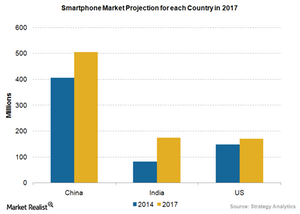 Why Emerging Markets Are Driving Google Android's Growth
By Puneet Sikka

Updated
Android growth from Indonesia and Vietnam
In the previous part of the series, we discussed the motive for Google (GOOG) behind the launch of two new Nexus phones. According to a report from the Wall Street Journal citing Google's CEO, Sundar Pichai, Android now has a total of 1.4 billion users, an increase from 1 billion in May 2014. He also mentioned that most of this growth is coming from emerging markets, or EEMs, such as Indonesia and Vietnam, where the number of users doubled over the last year.
Google continues to improve the features of its Android operating system. It also announced the launch of Marshmallow, Android's latest version, along with the launch of two new Nexus phones.
Article continues below advertisement
Android could have seen more growth
Although Android's growth has been impressive, it could have been even better had Google marketed Android One well in India (EPI), as we discussed in Why Didn't Google's Android One Succeed as Expected? The article also discussed how Apple (AAPL) and Microsoft (MSFT) took this opportunity to grow in India. Consequently, Apple's iPhone 6 and Microsoft's Lumia smartphones have been doing well in India.
India has the fastest-growing smartphone market in the world. It could overtake the US smartphone market by 2017, according to a report from Strategy Analytics. As the above chart shows, China will remain the largest smartphone market in the world, but India will grow fast enough to secure the second spot in this market by 2017.