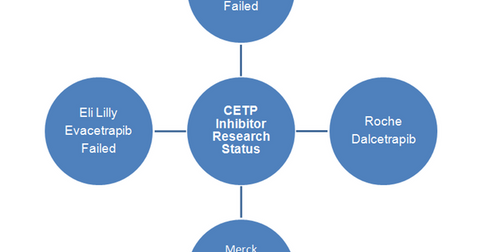 Why Eli Lilly Terminated Evacetrapib in the Drug's Phase 3 Trial
By Margaret Patrick

Oct. 14 2015, Published 11:05 a.m. ET
Phase 3 trial termination
On October 12, 2015, Eli Lilly and Company (LLY) announced its decision to terminate the cardiovascular drug Evacetrapib during its phase 3 trial. Belonging to the CETP (cholesteryl ester transfer protein) inhibitor class of drugs, Evacetrapib was developed for the treatment of atherosclerotic cardiovascular diseases. According to WebMd, atherosclerosis is the "hardening and narrowing of the arteries" which "silently and slowly blocks arteries, putting blood flow at risk. Atherosclerosis is also the "usual cause of heart attacks, strokes, and peripheral vascular disease—what together are called 'cardiovascular disease.'"
Article continues below advertisement
The above diagram attempts to illustrate how three major companies in the industry—Pfizer (PFE), Eli Lilly (LLY), and Roche Holding (RHHBY)—have failed to achieve statistically significant results in the clinical trials for their investigational CETP inhibitor drugs. Merck & Company's (MRK) CETP inhibitor, Anacetrapib, is currently in its phase 3 clinical trial stage.
CETP inhibitors are expected to work by increasing the HDL (high-density lipoprotein), or good cholesterol, levels and reducing LDL (low-density lipoprotein), or bad cholesterol, levels. This action is further expected to reduce the possibility of atherosclerosis.
Evacetrapib clinical results
Evacetrapib's phase 3 clinical trial, also called ACCELERATE (Assessment of Clinical Effects of Cholesteryl Ester Transfer Protein Inhibition with Evacetrapib in Patients at a High Risk for Vascular Outcomes), was terminated on the recommendations of an independent data monitoring committee. The trial was conducted in 37 countries among 12,095 patients with high-risk ASCVD (atherosclerotic cardiovascular disease). The data monitoring committee concluded that the drug was not expected to achieve its primary endpoint or goal and would not be effective in treating ASCVD patients.
You can reduce your exposure to Eli Lilly while participating in the company's upside potential by investing in the SPDR S&P 500 ETF (SPY). Eli Lilly accounts for 0.4% of SPY's total holdings.
Continue to the next part of this series for an assessment of the market response to Evacetrapib's termination.