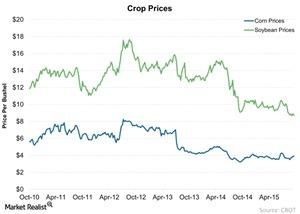 Earnings Preview: Headwinds Impacted Monsanto in 4Q15
By Adam Jones

Updated
Headwinds
So far 2015 has been a rough year for Monsanto (MON). The company has struggled due to falling crop prices, concerns from environmental agencies, currency headwinds, and the recent failure to acquire Syngenta. These events will likely impact Monsanto's performance in the short run.
Article continues below advertisement
Falling crop prices
Crop prices are key drivers for Monsanto (MON) and other companies like Syngenta (SYT), DuPont (DD), and Dow Chemicals (DOW).
Corn generates the most revenue for Monsanto.
Through the year, corn prices have fallen and are currently down 2% year-to-date. Soybean prices are also down 12.7%, which will impact Monsanto.
Roundup concerns
Monsanto's top product, Roundup, which is used as a weed killer, has garnered much attention recently due to potential health concerns.
The World Health Organization's International Agency for Research on Cancer reported that glyphosate, an active ingredient in Roundup, is "probably carcinogenic to humans."
Several countries have placed a ban on Monsanto's product as a result.
To mitigate the risks of investing in Monsanto, investors could also consider the VanEck Vectors Agribusiness ETF (MOO), which holds 16.4% of Monsanto and Syngenta as a percentage of its total portfolio.
Currency headwinds
Currency fluctuation has also been unfavorable for Monsanto this year. The weak Brazilian real compared to the US dollar has been negative for Brazilian farmers, as seeds and fertilizers are more expensive.
Over the past year, the Brazilian real has fallen about 35% compared to the US dollar, and a reversal of this trend does not seem to be on the horizon.
Next we will look at yet another setback for Monsanto, the failure of the company's bid to acquire Syngenta.