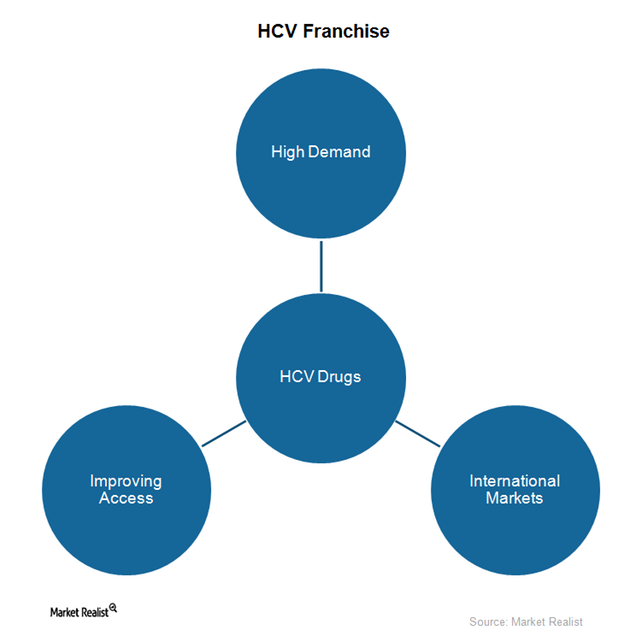 What Drove Gilead Sciences' Hepatitis C Portfolio in 3Q15?
Hepatitis C portfolio
Gilead Sciences' (GILD) hepatitis C (or HCV) portfolio is expected to continue driving the company's revenues and net profit margins in 3Q15.
Article continues below advertisement
High demand
According to Gilead Sciences, there are about four million people suffering from HCV in the US, though only 1.6 million people have been diagnosed. The company projects that approximately 250,000 to 300,000 HCV patients will be treated every year in the US. A significant portion of HCV patients will likely be treated by Sovaldi or Havoni due to the high efficacy of the drugs, according to data from Cigna.
On July 17, 2015, the health insurer reported that 98.4% of hepatitis C genotype 1 patients who were Cigna Pharmacy Management customers and treated with Harvoni were cured of the disease. Also, the average treatment duration for 40% of Harvoni patients in 2Q15 was eight weeks, indicating that the drug is even used by patients with less severe cases of HCV.
Prior to the launch of Gilead's Sovaldi and Harvoni and AbbVie's (ABBV) VIEKIRA PAK, HCV patients were treated with interferon therapy injected subcutaneously, or under the skin, mainly provided by Roche (RHHBY) and Merck (MRK).
Article continues below advertisement
In 2013 and 2014, about 470,000 patients were treated with Sovaldi or Harvoni. Gilead Sciences witnessed a spike in the total HCV patients being treated by its drugs in 1Q15, as there was pent-up demand from people who were waiting for Harvoni and thus deferred treatment. Gilead also expects this effect to continue up to 2016 or early 2017, which would further benefit the company. To find out more about Gilead Sciences' HCV portfolio, please refer to Gilead's Hepatitis C Portfolio: 2 Key Drugs.
Improving access
Access to Gilead's HCV drugs continues to improve as more health insurers realize the benefit of treating less severe HCV cases. An eight-week treatment regimen of Harvoni is prescribed for treatment-naïve patients without liver cirrhosis while treatment-experienced people with cirrhosis require a 24-week treatment. Thus, health insurance companies have realized that offering drug coverage to less severe HCV cases translates into a reduction in costs, so companies have been gradually increasing access.
Article continues below advertisement
Gilead Sciences faces a major roadblock in terms of access, as the prescriptions that physicians write for its HCV drugs significantly exceed the prescriptions that are actually filled. The majority of health insurance companies currently limit Harvoni and Sovaldi coverage to HCV patients with fibrosis scores of three and four.
According to BioPredictive, "Hepatic fibrosis is a process of scarring through fibrous tissue deposit which results in the destruction of the parenchyma, with the ultimate progressive stage being cirrhosis. The METAVIR score assesses fibrosis in chronic hepatitis C according to a 5-stage classification." The score starts at "F0," which implies no cirrhosis. Scores go up to "F4" for patients suffering from the most severe liver cirrhosis.
In Gilead's market research from April 1 to June 12, physicians wanted to prescribe Gilead's HCV drugs to 57% of HCV patients with fibrosis scores from F0 to F2. This proves that there is a substantial market opportunity for Gilead's HCV portfolio in the US.
International markets
In addition to the US markets, the use of Gilead's HCV drugs is also ramping up in international markets such as Europe, Canada, Australia, and Asia. Both Sovaldi and Harvoni have witnessed high numbers of patients in Spain, Italy, and Portugal. The drugs have been granted access and reimbursement in multiple European markets. In June 2015, access was also provided to patients with fibrosis scores of F2 as well as HIV co-infected patients in France. On July 3, 2015, Harvoni was approved in Japan. These trends are expected to boost Gilead's HCV revenues in 3Q15.
Instead of directly investing in Gilead Sciences and being exposed to excessive company-specific risks, you can invest in the company through the PowerShares QQQ ETF (QQQ). Gilead Sciences accounts for about 3.0% of QQQ's total holdings.