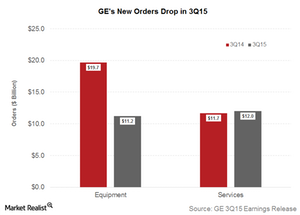 GE's 3Q15 New Orders Dropped: Should We Be Concerned?
By Mike Sonnenberg

Updated
General Electric
General Electric (GE) is a massive conglomerate with a strong presence in industrial segments including power, oil and gas, aviation, transportation, and healthcare. Since GE is the market leader in most of these segments, analysts and investors watch GE closely for clues about the broader economy (IVV). In fact, analysts raised questions regarding the possibility of industrial recession during the 3Q15 earnings conference call, after GE's 3Q15 filing showed that new orders dropped substantially during 3Q15.
Management responded to the concerns saying that the business environment in the United States and Europe is getting better, although there are some concerns over emerging markets. They also pointed to a strong backlog of orders of around $270 billion and an increase in service backlog and orders.
Article continues below advertisement
New orders with GE
Total new orders during 3Q15 came in at $23.2 billion as of September 30, 2015, of which $11.2 billion were equipment orders while $12.0 billion were services orders. One year prior, new orders came in at $31.4 billion, with $19.7 billion in equipment orders and $11.7 billion in services orders.
Power and water segment orders were up 8% in 3Q15. During the quarter, the company got orders for equipment from Indonesia, Ghana, and Thailand, among other geographies.
Oil and gas equipment orders were down 38% as customers curtailed capital expenditure due to a difficult industry environment.
Aviation segment orders were down 35% as the company received few large and non-recurring orders during 3Q14. As discussed earlier, GE is focusing on a partnership with Boeing (BA) in this segment.
Healthcare orders were down 4% due to the impact of foreign exchange.
As expected by management, transportation segment orders were down 77% as weak commodity prices made rail companies postpone capital spending.
Overall, unusually strong 3Q14 orders, weakness in the oil and gas industry and emerging markets, and the impact of foreign exchange hampered GE's 3Q15 new order position. However, the company's backlog position remains strong at $270 billion as of September 30, 2015, with $200 billion in services backlog and $70 billion in equipment backlog.