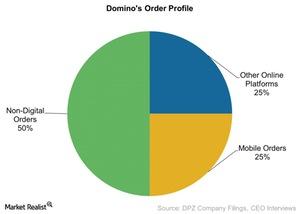 How Domino's Is Positioned to Increase Its Sales
By Adam Jones

Oct. 28 2015, Updated 12:04 a.m. ET
Domino's initiatives
In the previous part, we saw that Domino's Pizza (DPZ) had a double-digit same-store sales growth in the last four quarters. It is likely that this growth will decelerate to single digits in the coming quarters.
However, Domino's has taken initiatives to increase customer engagement by launching a loyalty program, as well as by enabling more and quicker ways to order.
Article continues below advertisement
Loyalty program
Domino's launched its much-awaited loyalty program during 3Q15.
With this loyalty program, a customer can get a free medium-sized pizza by collecting 60 points.
The customer earns ten points by placing an order worth $10, allowing customers to earn a free pizza in just six orders worth $10 each.
Domino's is not the first pizza company to enter this game. Papa John's (PZZA) already has such a loyalty program in place.
Loyalty programs can prove highly beneficial for growing a company's sales.
Starbucks (SBUX), for example, has one of the most successful loyalty programs in which customer earns stars on their purchases, which can be redeemed for a free beverage.
The iShares US Consumer Services ETF (IYC) holds 0.8% of Chipotle (CMG), 1% of Yum! Brands (YUM), 3% of Starbucks (SBUX), and 3.3% of McDonald's (MCD).
Digital
Digital ordering is key for Domino's growth. The company receives over half of its orders from digital platforms, including its website and its mobile site.
Mobile is becoming an increasingly important platform, with over 25% of its orders coming from mobile platforms.
The company allows customers to place their orders using a voice ordering system called Dom, as well as through smart TVs.
A customer can order by simply texting or using Twitter.
Although most of these new initiatives are taken to make it easier for customers to order, it is not yet proven how it will add to sales.
Store reimaging
Although Domino's heavily relies on deliveries and takeout orders, the company has also worked to reimage its stores that receive foot traffic.
The company has completed 2,000 reimages in the US.
The company has been reimaging its stores to its "Pizza Theater" concept, which allows customers to watch the pizza being prepared live.
The company plans to have all its stores remodeled according to this design by the end of fiscal 2017.