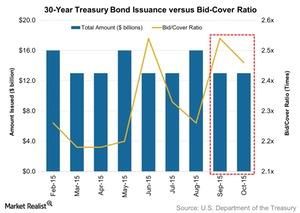 Why Direct Bidders Returned to Participate in the 30-year Treasury Bond Auction
By Lynn Noah

Aug. 18 2020, Updated 6:19 a.m. ET
30-year Treasury bonds
The monthly auction for 30-year T-bonds (Treasury bonds) was held on October 8, 2015, for $13 billion—the same amount as in the previous month. Here are some key takeaways from the auction:
The coupon rate was set at 2.875%—same as in the previous month.
The high yield fell to 2.91% in October, from 2.98% in September's auction.
The bid-to-cover ratio fell by 3.2% and came in at 2.46x in October's auction.
So far in 2015, the ratio has averaged 2.33x, lower than the 2014 average of 2.47x.
In the secondary market, the yield on 30-year T-bonds rose by seven basis points to 2.96% from the previous day, October 7.
Article continues below advertisement
Fundamental demand
Market demand fell to 71.9% of the accepted bids compared to 73.4% in September's auction. Indirect bids came in at 56.4% in September compared to 66.0% a month ago. Indirect bids—which include bids from foreign central banks—reflect overseas demand for T-bonds.
Direct bids rose to 15.5% in October from 7.4% in September. The share of direct bids includes bids from domestic money managers like Wells Fargo & Company (WFC) and Invesco Mortgage Capital (IVZ).
The share of primary dealers rose due to the fall in accepted bids from indirect bidders. The month-over-month share of primary dealers rose from 26.6% to 28.1%. Primary dealers act as market makers and include companies like Goldman Sachs Group (GS) and Citigroup (C). Primary dealers are obliged to take the excess supply of an auction.
Investment impact
The rise in long-term yields in the secondary market have negatively impacted the returns of long-term mutual funds. The following mutual funds provide exposure to long-term T-bonds:
The Wasatch-Hoisington US Treasury Fund (WHOSX) invests 100% of its assets in Treasury securities with a maturity of >10 years. The weekly return of the fund fell by -1.99% in the week ending October 9.
The T. Rowe Price US Treasury Long-Term Fund (PRULX) invests at least 90% of its assets Treasury securities with a maturity of >10 years. The week-over-week return of the fund was down by -1.61% in the week ending October 9.
Read the next part of this series for a look at the results of the ten-year Treasury notes auction on October 7, 2015.