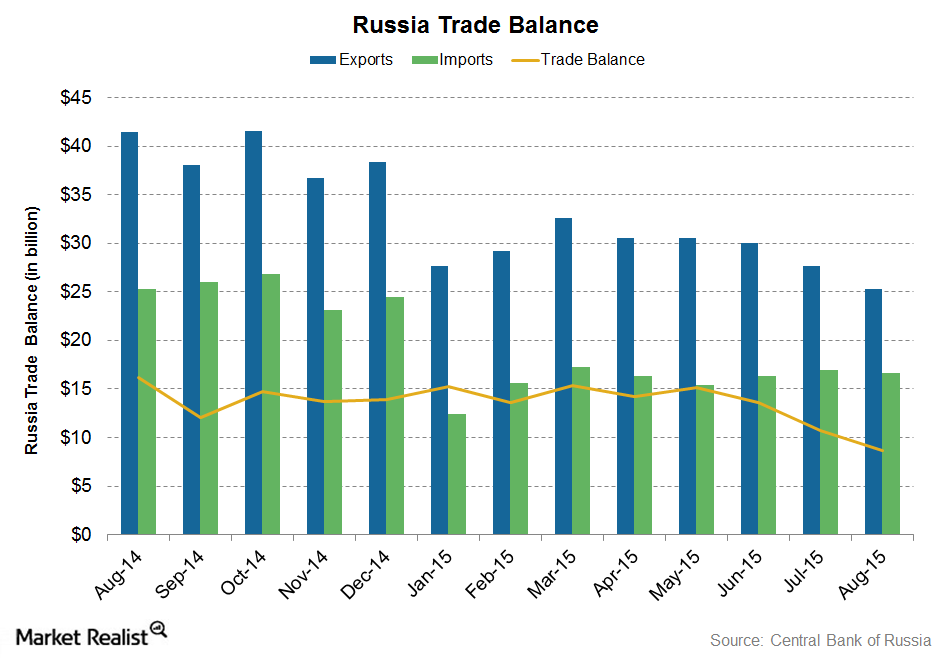 Russia's Trade Surplus Falls along with Crude Oil Prices in August
By Lara Sheldon

Oct. 13 2015, Updated 2:39 p.m. ET
Russia's trade surplus fell to $8.7 billion in August
Foreign trade plays a crucial part in the economic development of Russia. According to the Central Bank of Russia, the goods and services surplus fell to $8.7 billion in August 2015, compared to $16.2 billion a year ago. With falling trade surplus, the Russia-focused ETFs iShares MSCI Russia Capped (ERUS) and Direxion Daily Russia Bull 3X (RUSL) fell by 21.6% and 71.9%, respectively, over the past year as of October 12.
Article continues below advertisement
Exports plunged 39% in August 2015 over the previous year
Russia's exports, contributing ~28.6% of its GDP (gross domestic product), have fallen by 39% to $25.3 billion, respectively, in August 2015, compared to a year ago. Russia is a major exporter of energy products such as crude oil, petroleum products, and natural gas. According to Russia's Federal Customs Service, exports of energy products accounted for about 68% of Russia's total export revenue in 2013. Crude prices fell by 48.7% over the past year as of October 12, and this has had an adverse effect on Russian exports. The energy stocks Rosneft (OJSCY), Gazprom (OGZPY), LUKOIL (LUKOY), and Surgutneftegas (SGTZY) fell by 41.4%, 33.6%, 23.2%, and 14.6%, respectively, over the same period.
Imports fell due to a depreciating ruble
Year-over-year, Russian imports fell by 34.3% in August to $16.6 billion, compared to $25.3 billion in August 2014. China is one of Russia's top import partners, and the ruble has depreciated about 35.6% against the Chinese yuan as of October 12. A depreciating ruble makes importing from other countries costlier and has resulted in falling imports for Russia. Also, sanctions from the United States and other Western nations are still in force, further impacting Russia's foreign trade.
Falling crude prices, a depreciating ruble, and increasing inflation are affecting the economic Russia's growth prospects. Various policy measures need to be implemented in Russia to encourage economic development.
India's industrial production data is out. We'll cover that in the next article of this series.