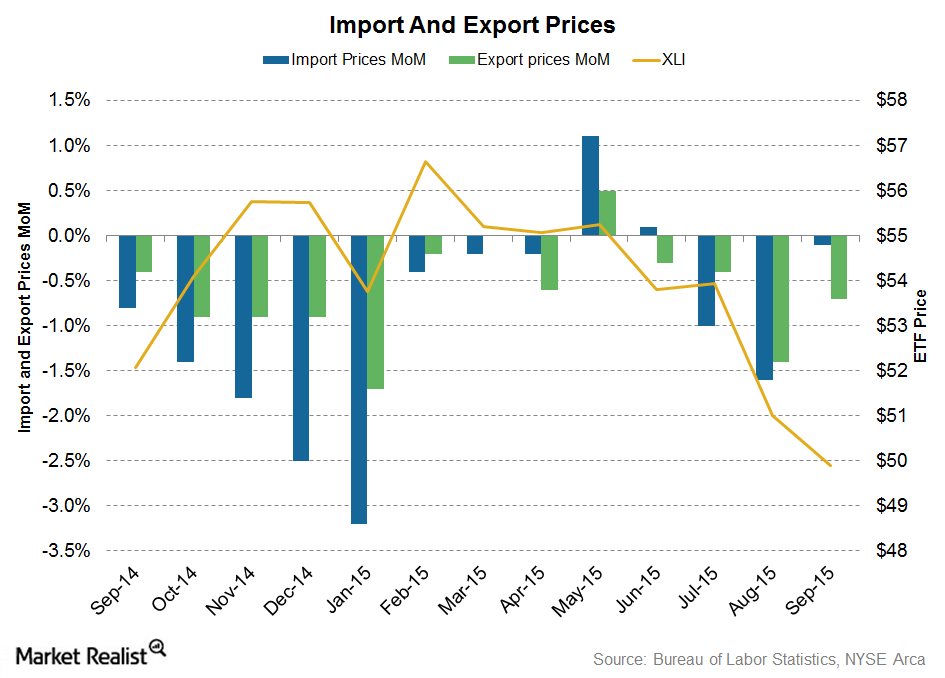 September's Fall in Import and Export Prices: What Does It Mean?
By Lara Sheldon

Aug. 18 2020, Updated 5:31 a.m. ET
Lower non-fuel prices tumble imports in September
US import prices fell 0.1% in September, compared with 1.6% in August 2015. The fall was better than the consensus estimate of -0.4%. The drop was mainly attributed to a fall in non-fuel prices by 0.3%, following a 0.4% fall in the previous month. Conversely, fuel prices rose 1.4% in September after falling 11.1% in August 2015. US import accounts for 16.5% of GDP (gross domestic product), and a continued fall in import prices implies that consumers are cautious in their spending. Even a stronger dollar has not been able to encourage imports. Over the past month, the Industrial Select Sector SPDR ETF (XLI) has jumped 4.2% as of October 9. However, the ETF is down 5.7% year-to-date due to the moderate growth outlook.
Article continues below advertisement
Strong dollar impacting exports
Export accounts for about 14% of GDP. An appreciation of the dollar against world currencies over the past year—the euro by 12.9% and the pound by 6.7%—has weakened US export competitiveness in foreign trade. Export prices have fallen 7.4% over the past 12 months and 0.7% in September. With the continuous decline in export prices, it is evident that the rising dollar is hampering US competitiveness in the foreign market.
In September, agricultural export prices fell by 1.1 % and prices for nonagricultural exports by 0.6%. Agriculture-related stocks such as Monsanto Company (MON) and CF Industries Holdings (CF) were down 24.9% and 6.8%, respectively, year-to-date as of October 9. The decline in non-agricultural exports was mainly led by a fall in prices of industrial supplies and materials, consumer goods, and automotive vehicles. Auto stocks like General Motors Company (GM) and Ford Motor Company (F) were down 1.4% and 0.13%, respectively, as of October 9, and 5.6% and 3.4% year-to-date.
With the slowdown in China and emerging markets (EDZ), export air passenger fares fell 10.8 % in September. The drop was driven by a 23.2% decrease in Asian fares. Overall export air passenger fares fell 16.3 % over the past 12 months.
Falling import and export prices suggest that the US economy is not gaining momentum. The global economic outlook remains weak with falling crude prices and slowdown in emerging markets. Moreover, a strong dollar is further compelling the US economy to grow moderately.
Like foreign trade, industrial production data provides detail on the manufacturing front. Let's take a look at Italy's industrial production data in the next article.