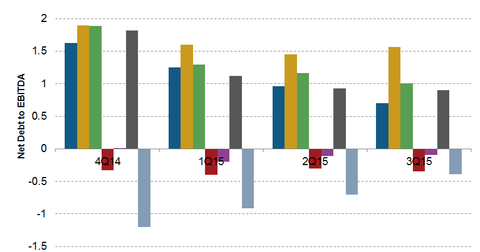 Is Debt a Concern for American Airlines?
By Ally Schmidt

Updated
Debt concerns
One of the main reasons that American Airlines Group's (AAL) stock hasn't taken flight despite strong operational performance is that the market and investors are concerned about its debt levels.
The company's total long-term debt and capital leases grew by about $2 billion year-over-year (or YoY) to end at $18.8 billion in the third quarter.
Given the company's current debt levels, it pays about $1 billion in annual interest. For the third quarter, the company's interest payment also stood at a huge $219 million. However, the company believes that it makes sense to increase debt in a low-interest environment.
American Airlines' total debt-to-EBITDA (earnings before interest, taxes, depreciation, and amortization) ratio stands at 2.74x for 3Q15. Its net debt-to-EBITDA ratio stands at 1.57x. This has fallen from 1.95x in 3Q14 and a high of 5.67x seen in 4Q13.
However, this ratio is the highest among those of its peers. For 3Q15, United Continental's (UAL) net debt-to-EBITDA ratio stands at 1x, Delta Air Lines' (DAL) at 0.7x, Spirit Airlines' (SAVE) at -0.4x, Alaska Air Group's (ALK) at -0.3x, and Southwest Airlines' at -0.09x.
American Airlines forms 5% of the holdings of the Dynamic Leisure & Entertainment ETF (PEJ).
Article continues below advertisement
Cash flows
American Airlines generated $1.2 billion in cash flow from operations and paid down $714 million in debt during the third quarter of 2015. The airline ended the quarter with $9.6 billion in total cash and investments, of which $710 million is restricted and $609 million is held in Venezuelan bolivars. It also holds an undrawn revolving credit facility of $1.8 billion.
Investor-friendly uses
American Airlines returned $1.6 billion to its shareholders through the payment of $67 million in quarterly dividends and the repurchase of $1.6 billion of common stock during the third quarter, taking its returns tally to $2.7 billion in terms of dividends and share repurchases for the first nine months of 2015.
Our analysis
On the positive end, most of American Airlines' debt came at nominal-to-low rates. As long as interest rates and fuel prices continue to remain low, the company will face no issues. However, as fuel prices are expected to rise in 2H16, investors could be rightly concerned about the company's huge debt.