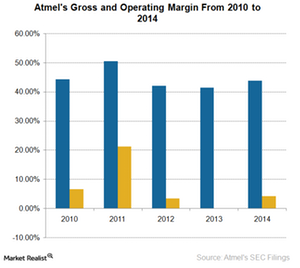 Cypress Said It Wasn't Competing with Dialog for Atmel Acquisition
Cypress bid for Atmel was a rumor
In the first part of the series, we saw that Cypress (CY) was rumored to have challenged Dialog's offer for Atmel (ATML). Cypress denied the rumors, stating that it had approached Atmel's board in the past, but had withdrawn from the bid after the offer expired. As a regular practice, Cypress evaluates acquisition opportunities that are in sync with its business and can prove beneficial for it.
If the Cypress rumor were true and the bid had been accepted by Atmel, the latter would have had to pay Dialog a $137.3 million termination fee.
Article continues below advertisement
Atmel was a potential acquisition target
The increasing adoption of connected devices has made chip makers serving the industrial, automotive, mobile, and storage spaces potential acquisition targets. In an article dated June 22, 2015, Wall Street Daily stated Atmel as a possible acquisition target.
Even though Atmel had been posting strong gross profits over the past five years, its operating profit had been falling due to high research and development expense.
Atmel started a strategic evaluation of its operations. It sold its XSense touch sensors group to UniPixel in April 2015. On August 25, 2015, the company announced that it had postponed the retirement of its chief executive officer, Steven Laub, until the strategic evaluation process is completed. All these signs indicated that the company was looking for a possible sale.
Article continues below advertisement
Dialog was an unexpected buyer
While Atmel's acquisition was likely, it was surprising that Dialog was the buyer, as it is about the same size as Atmel in terms of revenue. In fact, Dialog itself was considered to be a potential acquisition target.
Other potential buyers for Atmel
In the event that the acquisition is rejected by Dialog shareholders, Atmel could find other potential buyers. Microchip Technology (MCHP) and ON Semiconductor (ONNN) could be potential buyers, as they had attempted to acquire Atmel in 2008.
You can invest in Atmel through the iShares Core S&P Mid-Cap ETF (IJH), which has 0.23% exposure in the stock.