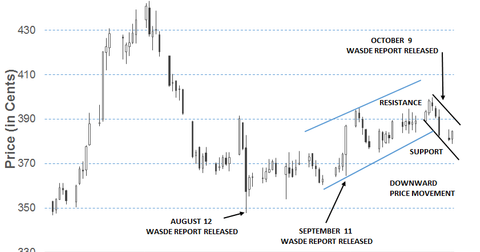 Could Corn Prices Continue on the Downward Trend?
By Sean Brown

Updated
The pattern of corn prices
December CBOT (Chicago Board of Trade) corn futures prices continued the downward pattern, reporting a ~1% rise on October 13, 2015. Corn futures prices fell 4.4% consecutively in the last four trading days, reversed by a less-than-expected harvest progress report released that same day. Corn prices reached and closed very near to the previous day's prices, which might be an indicator of a price rise.
Article continues below advertisement
Support and resistance
Traders were projecting a speedy harvest completion. Producers were delaying harvest activity due to favorable weather and to avoid potential storage costs. These could create a tug of war in the upcoming week. A slowly progressing crop progress report supports the supply sentiment, while the demand hasn't shown much change in the short-term projections. Corn price might be trading between the support and resistance at $3.70 and $3.90 per bushel.
The chart pattern shows the potential trend change and continuation of the previous trend, but it doesn't have any support from the fundamental news. The day settlement prices are trading near 20-day moving averages and above 50-day and 100-day moving averages, with 50-day moving average prices trading below 100-day moving averages. The pattern shows that the rise in price might continue this week.