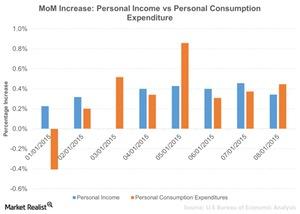 Consumer Income and Spending Increase
By Mark Jonker

Updated
Mixed macroeconomic indicators
The Bureau of Economic Analysis released its report on personal income and outlays for the month of August on September 28, 2015. The US economy had another month of strong consumer data to give an indication to the Fed (Federal Reserve) that the economy is ready for a rate hike. Earlier, the Fed delayed its decision to increase the interest rates citing concerns of below-par inflation and turbulent global economy. In a consumer-driven economy like the United States', personal income and availability of cheap credit highly impacts consumer spending and ultimately the economy as a whole. August's income and spending supported a rate hike, but the labor data, which we will have a look at in this series, is suggesting something else altogether.
Article continues below advertisement
Consumer income and spending
Personal income for the month of August increased by 0.3% from July. It's an increase of 4.2% on a YoY (Year-over-Year) basis. August's wages and salaries increased by $35.6 billion, an increase of 0.46% over the last month.
August's personal consumption expenditure was much more impressive. Economists had predicted an increase of 0.3% in personal consumption expenditure, but the actual increase was 0.4% over the month of July.
Personal savings rate as a percentage of personal income has also decreased from 4.7% in July to 4.6% this month. This indicates rising consumer confidence in the future of the economy, which leads to consumer spending.
Increase in consumer income and spending is highly positive for the SPDR S&P Retail ETF (XRT), which can be considered as a proxy for the US retail sector, with exposure to 101 of the country's retail stocks. Retail companies such as Amazon.com (AMZN), Walmart (WMT), Sears Holdings (SHLD), and Macy's (M) are some of the XRT ETF's holdings.
In the next article, we will have a look at the consumer confidence index.