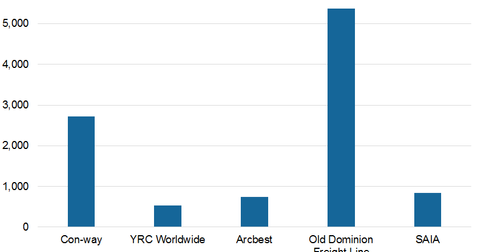 Consolidation in the Transportation Industry
By Robert Karr

Updated
Fragmented market
The transportation industry is highly competitive due to the presence of many small and big players. Unlike railroads, the companies in on-ground trucking transportation face severe competition from local players in terms of price as well as customized service.
The competition is higher still in the less-than-truckload (or LTL) segment. The overall market is estimated at $35 billion.
XPO Logistics (XPO) announced its acquisition of Con-way (CNW) in September 2015. The combined entity is expected to make $15 billion in revenues and will be the second-largest player in the LTL segment.
Article continues below advertisement
Profitability
In a bid to win business, small- and mid-size players periodically reduce their prices, especially in lower-growth scenarios. Big players in the industry have increased the efficiency in their services by spending on technology and innovation.
In both scenarios, overall margins for the industry have remained low, resulting in a declining rate of capital expenditure for technology and product offerings.
The industry has already experienced some consolidation through the following acquisitions:
FedEx (FDX) has agreed to acquire Dutch parcel company TNT Express
United Parcel Service (UPS) acquired freight broker Coyote Logistics
Celadon (CGI) has acquired Tango Transport, with a fleet of more than 1,000 trucks and 2,000 trailers
Daseke has been building up a national flatbed presence with a string of mergers
Maverick Transportation and Roadrunner Transportation Systems have also made acquisitions in recent months
Slowing growth and a declining rate of shipments are expected to further push for consolidation within the transportation industry.