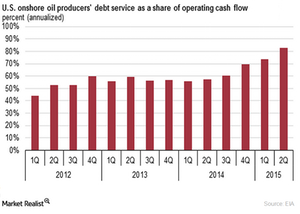 Commodity Meltdown: 19 Oil and Gas Companies in Bankruptcy
By Gordon Kristopher

Updated
Oil and gas debt 
The net debt of US oil and gas exploration and production companies increased from $81 billion in 2010 to $169 billion by 1H15. The main reason is the catastrophic fall in crude oil prices. As a result, cash flow for US oil-producing companies fell a whopping $30 billion in 1H15.
The turmoil in the oil market has hit small oil and gas players more than large integrated players such as Chevron and Exxon (XOM). Some small upstream players such as Swift Energy (SFY), Energy XXI (EXXI), Halcon Resources (HK), and Goodrich Petroleum (GDP) might file for bankruptcy, according to a Forbes estimate. These companies have huge debt and have lost more than 90% of their market capital in the last one year.
Article continues below advertisement
Money has been flowing
An estimated $745 billion in investments flowed into oil, gas, and mining projects around the world between 2005 and 2014. The huge amount of invested money needs returns in order to pay the debt, but crude prices have fallen more than 60% since June 2014. This impacted revenues. The ability to service debt fell, and debt started to mount.
According to IHS (IHS), more than $200 billion worth of oil and natural gas assets are for sale globally in 2015. Bloomberg surveys project that $181.1 billion of oil and gas acquisitions will be announced in 2015, the highest in the last decade. Last year, $167.1 billion worth of oil and gas acquisitions took place, according to Bloomberg data.
The commodity meltdown has forced 19 oil and gas companies to file for bankruptcy in the past year. Many oil companies are in a restructuring process. The financial pressure to service debt and lower commodity prices and economic uncertainty in global commodity-consuming nations will continue to put pressure on energy and commodity-producing giants. The 3Q15 earnings of S&P 500 companies could be a precursor of a bigger collapse.
The mammoth fall in oil prices affects not only crude oil stocks but also ETFs such as the Vanguard Energy ETF (VDE). In contrast, the fall in prices benefits ETFs such as the ProShares UltraShort Bloomberg Crude Oil ETF (SCO).