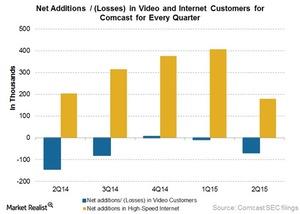 Why Is Comcast Launching Seeso?
Subscriber losses in the pay-TV industry
According to a Bloomberg report dated October 19, 2015, cable and satellite providers are expected to lose subscribers in 3Q15. According to a Bloomberg compilation of analysts' estimates, companies including Comcast (CMCSA) and Dish Network (DISH) are expected to face a loss of 0.3 million to 0.4 million subscribers in 3Q15.
Comcast's loss of video subscribers improved to 69,000 in 2Q15. As the chart above indicates, Comcast's subscriber losses for its video business in the cable communications segment have improved significantly from 2Q14. However, Comcast has been unable to stem these subscriber losses.
Article continues below advertisement
The pay-TV industry is facing a growing loss of subscribers as more Millennials are moving toward viewing content online. Millennials, people in the 18–34 age group, prefer edgy content widely consumed over social media and published on sites such as Vox Media. They have either cut the cord on cable or have stopped subscribing to pay-TV altogether.
Whereas content offered online may be more compelling, it is also cheaper to watch. While a cable subscription can cost over $100 per month for bundled services, Netflix (NFLX) offers a more affordable subscription, at an average price of $10 per month.
Increasing net additions of customers for high-speed Internet
It is interesting to note that, as shown in the above graph, while Comcast is facing subscriber losses in its video business, its high-speed Internet customer net additions are increasing. However, 2Q15's net additions of high-speed internet, at 180,000 customers, was comparatively lower than in prior quarters.
This trend shows that Millennial customers are moving to watching content online, with a high-speed internet connection. With its high-speed Internet, this is where Comcast comes in.
Where does Seeso fit in for Comcast?
Comcast is trying to lure Millennials with OTT (over-the-top) services such as its ad-supported Watchable platform and Stream, which is expected to launch shortly. Stream will initially be available only to Comcast's Xfinity Internet customers. Seeso, another subscription-based online video service due to launch in January next year, also fits into this Millennial-focused strategy.
Comcast is present in the whole OTT ecosystem—it can earn revenues from its high-speed Internet business, advertising revenues from ad-supported platforms such as Watchable, and subscription revenues from online video platforms Seeso and Stream. Furthermore, Comcast can earn content licensing revenues by licensing its content to other OTT providers such as Dish Network's Sling TV.
You can gain diversified exposure to Comcast by investing in the PowerShares QQQ Trust, Series 1 ETF (QQQ), which holds 2.6% of the stock. The same ETF also holds 4.4% of Facebook (FB).