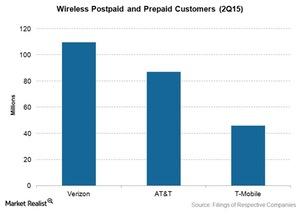 A Closer Look at Verizon's Reseller Arrangements and Earnings
By Ray Sheffer

Updated
Comcast's expected wireless offering
In this series, we'll look at some updates from Verizon (VZ) during its third quarter earnings conference call held on October 20, 2015. We'll start with Verizon's comment on its prior reseller agreements with cable companies. These agreements were parts of the spectrum deal between Verizon and cable players including Comcast (CMCSA), Bright House Networks, and Time Warner Cable (TWC) that the FCC (Federal Communications Commission) approved in August 2012.
During the conference call, Verizon's CFO and EVP, Fran Shammo, said, "We have an existing MVNO agreement and we were informed that they are going to execute on that agreement."
Article continues below advertisement
Meanwhile, a report by Bloomberg on October 21, 2015, mentioned, "Comcast would offer a hybrid cellular and Wi-Fi service, using Verizon's network and Wi-Fi hotspots." On another report, according to Craig Moffet, claimed "Comcast's move to exercise its rights under the Verizon contract is likely just the first step in what is likely to be a rather long and slow evolution".
The US wireless industry
The top four players in the US wireless space are Verizon, AT&T (T), T-Mobile (TMUS), and Sprint. At the end of 2Q15, AT&T and Verizon were the largest two carriers in terms of total wireless customer base. The third-largest player in this metric was T-Mobile. Meanwhile, Sprint was the fourth-largest player at the end of 2Q15.
Instead of taking on direct exposure to Verizon's stock, you may take on diversified exposure to the telecom company by investing in the iShares MSCI USA Minimum Volatility ETF (USMV). The ETF invested ~1.9% of its portfolio in the telecom company at the end of August 2015.