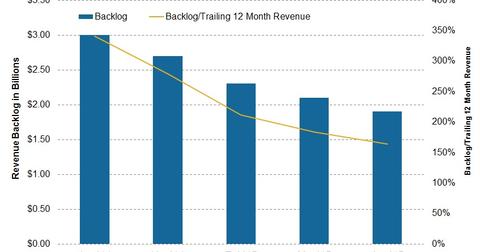 A Closer Look At Pacific Drilling's Backlog and Contracts
By Sue Goodridge

Updated
Backlog
A company's backlog is a helpful indicator of its future revenues. As of August 2015, Pacific Drilling (PACD) had a total backlog of $1.9 billion, compared to its backlog of $2.1 billion at the end of May 2015. The company's backlog to revenue ratio has rapidly decreased and stands at 164%, compared to 340% in the same period in 2014—a worrisome situation for the company.
Article continues below advertisement
Backlog for 2016–17
The details for Pacific Drilling's contracted revenue backlog are as follows:
The backlog for 2016 stands at $715 million, which equals 61% of the company's revenues over the trailing four quarters. This means if the company is unable to secure new contracts, the company's 2016 revenue will be, at most, 61% of its revenue over the past four quarters.
The backlog for 2017 stands at $280 million—only 24% of the revenue for the past four quarters.
Backlog-to-revenue ratio is rapidly declining. This indicates the company is largely dependent on older contracts and is having a hard time securing new contracts during the current industry downturn.
The company has only one contract that extends beyond 2017—one contract will expire in 4Q15, one in 3Q16, and the remaining two in the first and second quarters of 2017.
Major setback
In June 2015, Chevron Corporation, Pacific Drilling's key customer, canceled a tender process for a high-specification drillship in the Gulf of Mexico. Pacific Drilling would have been the likely winner of this tender, and in anticipation of this contract with Chevron, it had already moved a rig, the Pacific Meltem, to the Gulf of Mexico.
Article continues below advertisement
Comparing PACDs backlog with peers'
We should consider the following numbers in any comparison of Pacific Drilling with its industry peers:
Pacific Drilling's total revenue backlog was 164% compared to the trailing four quarters.
Seadrill (SDRL) and Ensco (ESV) saw total revenue backlog ratios of 153% and 160%, respectively, over the same period.
Rowan Companies (RDC) and Diamond Offshore Drilling (DO) saw slightly higher total revenue backlog ratios of 210% and 228%, respectively.
Industry contracts
At the same time, Transocean and Ocean Rig published their fleet status reports in September, and both reports showed that these companies have not been successful in securing new contracts. Noble Corporation has secured two new contracts for its jack-ups.
In the last month, Petrobras, Total, and Pemex have announced spending cuts for 2016. These companies will have lower capital budgets in 2016 compared to 2015. Other E&P (exploration and production) companies are also expected to cut their spending levels in 2016, making it difficult for offshore drilling companies (OIH) to secure new contracts and increase backlogs.
Continue to the next part of this series for a look at Pacific Drilling's expense estimates for 3Q15 and beyond.