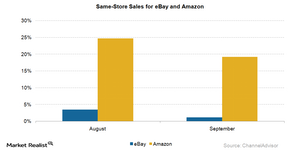 A Closer Look at eBay's Stock Performance ahead of 3Q15 Earnings
By Matilda James

Oct. 20 2015, Published 12:39 p.m. ET
Performance of eBay's Stock
eBay (EBAY) stock value rose after the release of its second-quarter earnings in 2015. The company's shares rose by 3.4% and have performed well on the S&P 500 in the last week. eBay's share were up by 0.12% last week, but they fell 9.13% over the last four weeks.
As per the consensus analyst estimates, the price target for eBay's stock is $29.77, which is an increase of 21.21% compared to the last stock value of $24.56.
eBay's shares fell 8% in the first week of October 2015 due to a decline in the same-store sales in September. Same-store sales rose 1.1% year-over-year in September compared to 3.4% in August, as per a report from ChannelAdvisor.
On the other hand, Amazon (AMZN) witnessed a rise of 19.2% in same-store sales in September, which again is low from the 24.7% in August, the graph above shows.
Article continues below advertisement
ChannelAdvisor, a provider of e-commerce software solutions to retailers, tracks online sales. In December, it released its same-store sales report for the 2014 holiday season. According to the report, Amazon's (AMZN) top growth day was Cyber Saturday, when the company launched its Cyber Monday offers early. Amazon won the Cyber Five period with 23.8% year-over-year growth in sales.
eBay's Cyber Five growth was 20.5%. Google's (GOOG) (GOOGL) Cyber Five growth came in at only 5.8%.
Cyber Five is the five days that include Thanksgiving Thursday, Black Friday, Saturday, Sunday, and then Cyber Monday.
For diversified exposure to eBay, investors can consider ETFs such as the SPDR S&P 500 (SPY). This ETF invests in the 500 largest US companies, and the technology sector makes up 18% of its portfolio.