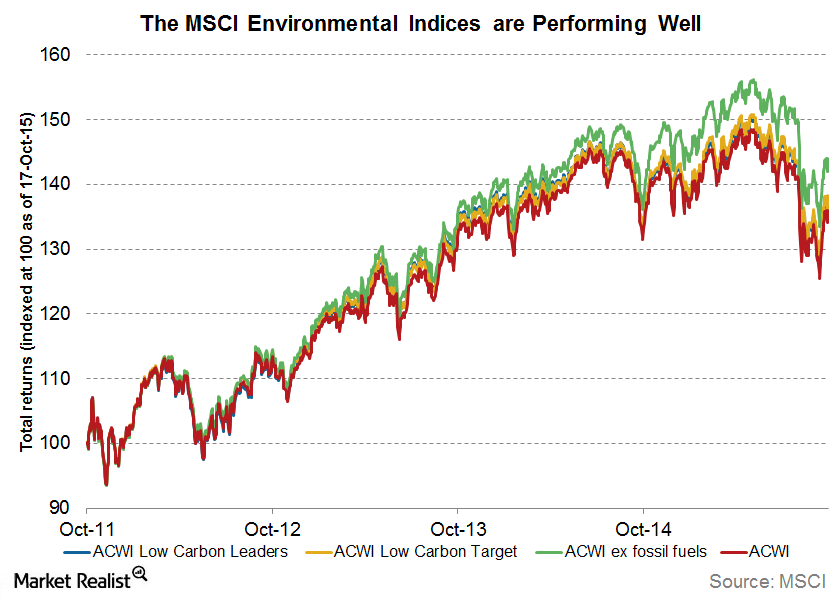 Climate-Proofing Your Portfolio: Challenges and Opportunities
By Ewen Cameron Watt

Oct. 26 2015, Published 9:28 a.m. ET
How should investors react? The simple answer—invest in low-carbon companies only—is appealing but challenging. For starters, excluding companies from portfolios automatically means a different return from holding the full range of a market. Allocating capital to an industry for reasons beyond monetary returns also lowers the cost of capital for investors and, maybe, potential returns for the beneficiary. Put more simply, fashions create bubbles and can reduce underlying investor payouts because too much capital chases limited opportunities.
Article continues below advertisement
Paying a high price for opportunity involves making judgments well into the future, a skill that has eluded many corporations and investors over the years. And prices fall as adaptation rises, as investors in solar panel makers have found. Today's margin of scarcity is tomorrow's competitive opportunity for a disruptor.
Market Realist – Climate-proofing your portfolio may indeed be a challenge. The key may be not trying to pick the winners but trying to avoid the losers. Avoiding investments in companies that are susceptible to climate change risk may go a long way in climate-proofing your portfolio.
The MSCI environmental indices—namely, the ACWI Low Carbon Leaders, ACWI Low Carbon Target, and ACWI ex-fossil fuels—have been performing well over the past few years, as you can see in the above graph.
The MSCI ACWI ex-fossil fuels index includes large and mid-cap stocks from 23 developed markets (EFA) (DBEF) and 23 emerging markets (VWO). It excludes companies that own oil, gas, and coal reserves. The index can act as a benchmark for investors looking to eliminate climate change risk from their portfolios. Since its inception in November 2010, the index has posted an annualized gross yield of 9.2%. This is higher than the annualized gross yield of 8.0% posted by the ACWI (ACWI) over the same period.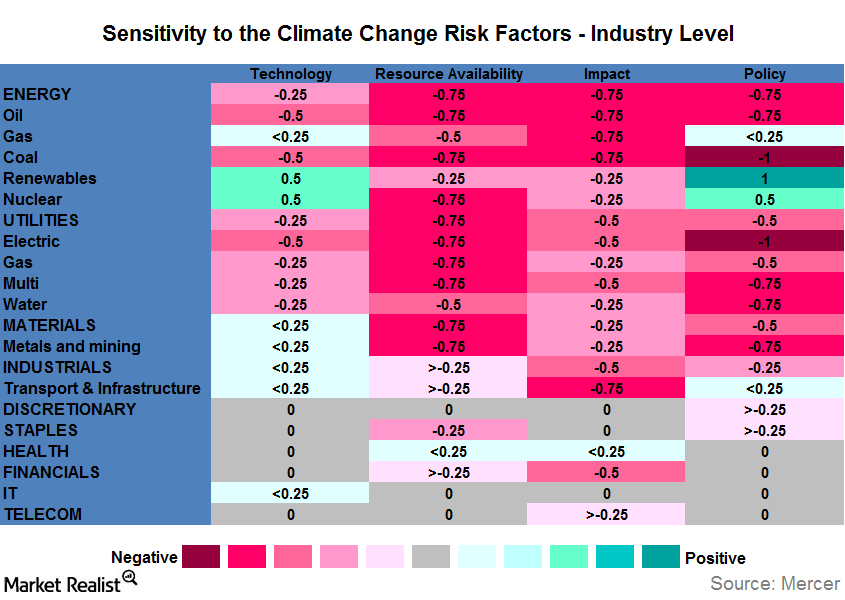 The above chart shows the sensitivity of each sector to climate change risk factors, as estimated by Mercer in its Climate Change Report for 2015. The report assesses the sensitivity of industry sectors to four climate change risk factors: technology, resource availability, impact of physical damages, and policy.
Changes in climate change policy are likely to negatively impact utilities (XLU) (FXU) such as electricity and the fossil-fuel–dependent energy sector (IXC) (VDE). Renewables, on the other hand, are likely to benefit from changes in technology and policy.
Read on to the next part of the series to understand how technology is likely to play a key role in the climate change debate and how investors are trying to manage climate risk in their portfolios.