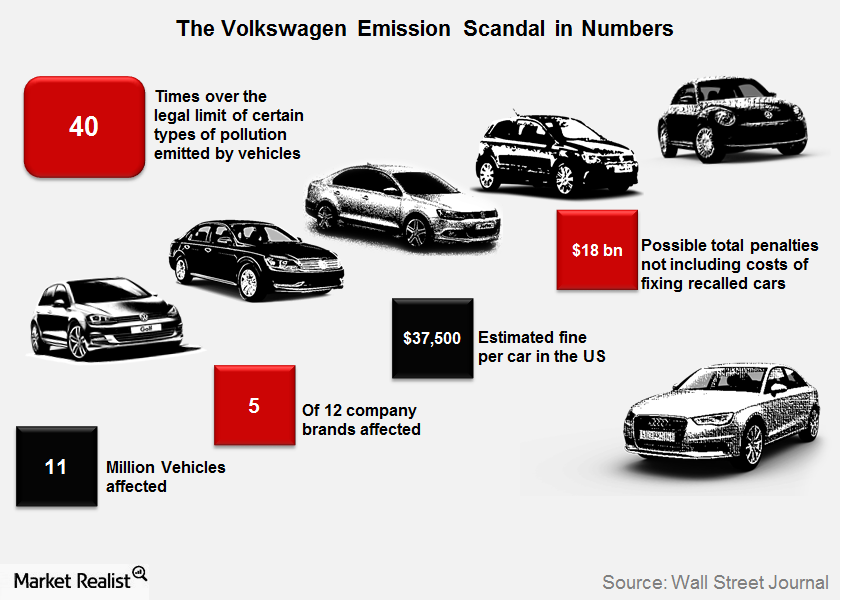 Climate Change Risks: Look Beyond the Obvious
By Ewen Cameron Watt

Nov. 20 2020, Updated 5:07 p.m. ET
Climate change risks stretch beyond the familiar areas of utilities and fossil fuel producers. Cutting corners to avoid compliance just got much harder. Investors will need to think more deeply about these risks and how to manage them correctly.
Many industries were already coming to terms with the reality that climate change regulations are getting more stringent. The UN Climate Change conference in Paris this December—catchily named Cop 21—will focus investors on resulting opportunities and risks. VW has simply upped the ante.
Market Realist – When it comes to climate change risks, investors should look beyond the obvious sectors like fossil fuel and utilities. The VW (VLKAY) scandal has only reaffirmed this.
Article continues below advertisement
The Volkswagen emissions scandal may very well be the worst and the costliest scandal since Enron and the BP Deepwater Horizon catastrophe. The company could face an EPA penalty of $18 billion in the United States alone. Credit Suisse has estimated the cost of Dieselgate at $26 billion, and that's only in the best case scenario. According to Credit Suisse, the worst case scenario could see the company shell out as much as $87 billion in owner reimbursements, civil-criminal liabilities, and emission problem fixes.
Financial costs to the company aside, there are severe environmental repercussions. Diesel cars emit dangerous pollutants such as nitrogen oxides, which have been linked to various respiratory and cardiovascular ailments.
According to 2012 estimates from the World Health Organization (or WHO), 3.7 million premature deaths throughout the world can be attributed to air pollution. The International Agency for Research on Cancer has identified diesel emissions as number-one in carcinogens and a cause of lung cancer.
Noelle Eckley Selin, an atmospheric chemist and associate professor of data, systems, and society at Massachusetts Institute of Technology, has estimated the cost of health damage from the VW scandal to be a massive $100 million. She also observed that as many as 34 deaths can be directly attributable to the VW emissions scandal.
Volkswagen (VLKAY) is not the only automaker that's ever been in hot water over environmental concerns. The above chart shows violations of the U.S. Clean Air Act since 1996. Automakers such as Ford (F), Daimler (DDAIY), Toyota (TM), and Hyundai (HYMLF) are on the list.
Article continues below advertisement
Volkswagen (VLKAY) may not be the only automaker with emission discrepancies. According to the International Council on Clean Transportation (or ICCT), the group responsible for pointing out the data discrepancies in the VW scandal, the average gap between real-world emissions and official test results has grown from 10% in 2001 to nearly 40% today.
According to the ICCT, Volkswagen doesn't have the widest gaps in tests. According to Quartz, Daimler cars in Germany showed a gap of more than 50% between the emissions in real-world conditions and those estimated in official test conditions.
The VW scandal has brought the issue of climate change back to the fore. Investors need to understand that the debate is not restricted only to energy (IYE) and utility (IDU) companies. All companies with large carbon footprints could be a risk for your portfolio. The importance of climate change risk as a consideration for your portfolio grows more important in a world threatened by pollution and global warming. Read on to find out more.