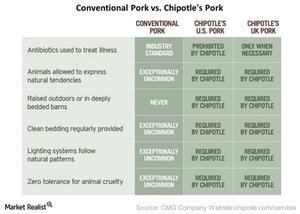 Chipotle Delivers: It Brings Back Carnitas
By Adam Jones

Nov. 20 2020, Updated 4:57 p.m. ET
Background on carnitas issue
In January 2015, Chipotle (CMG) suspended its primary pork supplier, stating that the supplier failed to meet its animal welfare protocol. This led to about a third of Chipotle's restaurants not being able to serve carnitas, which includes pork as a key ingredient.
The unavailability of pork in most of its restaurants impacted the company's sales. To put this in perspective, the pork supply shortage negatively hit Chipotle's same-store sales growth by as much as 2% in April.
Article continues below advertisement
Carnitas are back
In its previous earnings call, Chipotle's management had already guided that it will resume using pork in most of its restaurants by the end of 2015.
On September 28, 2015, Chipotle's management announced that it was able to resume serving carnitas in 90% of Chipotle's restaurants.
Most of the anticipation for carnitas to return to its menu by the end of 2015 was priced into Chipotle's stock.
In the following days after the announcement, Chipotle's shares increased by only about 1.7%.
Currently, the iShares Dow Jones US Consumer Service ETF (IYC) holds about 0.8% of Chipotle as a percentage of its total portfolio.
Why does Chipotle keep doing well?
Today's customers are heavily immersed in social media and awareness about what is good for them.
Chipotle does not run ads as frequently as its peers, and its menu has remained unchanged for many years.
Chipotle actively educates its customers on industry practices, as seen in the above chart.
Chipotle also announced in its 2Q15 call that it has eliminated GMO (genetically modified organisms) from its ingredients.
World Health Organization defines GMOs as "foods derived from organisms whose genetic material (DNA) has been modified in a way that does not occur naturally."
Chipotle stated, "Chipotle is the only national chain where consumers can eat anything on the menu without worry about eating GMOs."
In the next part, we will look at how Chipotle's margin has performed over the years and what to expect in the upcoming earnings announcement.