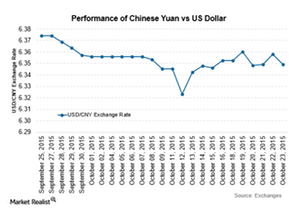 Chinese Yuan Rises Due to the Rate Cut by the PBOC
By David Meyer

Oct. 26 2015, Updated 10:28 a.m. ET
Chinese yuan rises
The Chinese yuan appreciated against the US dollar on October 23, 2015, after the PBoC (People's Bank of China) cut interest rates by 25 basis points to 4.4% in the monetary policy meeting in Beijing. The move comes after the growth in the GDP (gross domestic product) came in at 6.9% for the third quarter corresponding to six-year low levels. The rate cut by the PBoC spread optimism among benchmark equity indices across the globe. Investors were confident that the central bank was actively pursuing measures to stimulate growth.
Article continues below advertisement
Earlier this week, the IMF (International Monetary Fund) informed Chinese officials that the Chinese yuan was on track to be included in the elite group of global reserve currencies having SDR (special drawing rights). Currently, there are four currencies in the IMF's SDR basket—namely the US dollar, the euro, the pound sterling, and the Japanese yen.
Sixth rate cut within a year
This move is the sixth cut in the interest rates by the PBoC since November last year. The RRR (reserve requirement ratio) for banks was also cut by 50 basis points to 17.5%. Lenders providing money to agricultural and smaller units received an additional 50 basis point cut. On the other hand, the one-year deposit rate will be lowered from 1.8% to 1.5%.
Impact on the market
Reacting to the news of the rate cut by the PBoC, the ETFs were trading on a positive trajectory. The iShares China Large-Cap ETF (FXI) rose 1.7% while the iShares MSCI China ETF (MCHI) rose 1.8%.
Chinese ADRs (American depositary receipts) also reacted positively to the news of the rate cut. China Southern Airlines (ZNH) was trading higher by 1.0%. On the other hand, Sinopec Shanghai Petrochemical (SHI) ended higher by 9.3%, while Yanzhou Coal Mining (YZC) was trading in the positive trajectory by 1.4%.