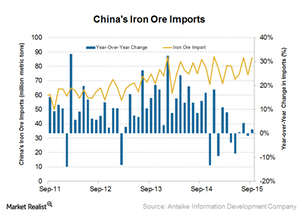 China's Iron Ore Imports Surge: Long-Term Sustainability Doubtful
China's iron ore imports
Aside from being the largest coal consumer, China (MCHI) is also the world's top iron ore consumer. China imports almost two-thirds of the world's seaborne iron ore.
Dry bulk carriers carry iron ore more than any other commodity.
Article continues below advertisement
Imports are at the highest level for 2015
As you can see in the above graph, China's iron ore imports in September were the highest level of 2015 at 86.1 million tons. This was a rise of 1.7% YoY (year-over-year) and 16.2% month-over-month. For the first nine months of the year, imports have totaled 700 million tons. They're almost flat YoY.
Exports and infrastructure projects spiked imports
The current rise in iron ore imports is due to strong steel exports. In September, China exported 11.3 million tons of steel products, which is a 16% rise month-over-month and 32% rise year-over-year.
China's steel exports, however, remain a controversial topic, as many countries have filed anti-dumping suits against Chinese exports.
A part of the surge in iron ore imports is due to the government's infrastructure projects. Going forward, Chinese steel production is expected to be negatively impacted due to weaker domestic demand. In the absence of support from government infrastructure projects, China's iron ore imports could decline. Restocking in October also means further imports could be weaker in the coming months.
This implies that the positive impact on dry bulk shippers will likely be temporary. Steel demand remains weak amid a property market slowdown. The lack of any rise in the underlying demand for steel is weighing down China's demand for iron ore.
The Guggenheim Shipping ETF (SEA) represents dry bulk shippers, including Navios Maritime Holdings (NM), Navios Partners (NMM), Scorpio Bulkers (SALT), Ship Finance International (SFL), and Diana Shipping (DSX). These companies haul dry bulk materials such as iron ore, coal, and grain across the ocean. Their performance is directly correlated with commodity import data. Fewer imports have a negative impact on these companies. Navios Maritime Holdings accounts for 2.2% of SEA's assets.
The SPDR S&P Metals and Mining ETF (XME) invests in industries such as steel, coal, and consumable fuels, gold, precious metals and minerals, aluminum, and diversified metals and mining.