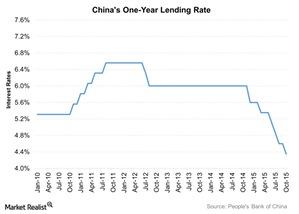 China's Efforts to Boost Its Slowing Economy in 3Q15
By Lynn Noah

Aug. 18 2020, Updated 4:45 a.m. ET
Overview of selected funds
The aim of this series is to analyze the performances of four Chinese mutual funds during the quarter that ended on September 30, 2015. These funds will be:
But before moving straight to our analysis, let's look at the broader picture of the Chinese economy, in addition to the reforms introduced by China's Central Bank to promote economic growth.
Article continues below advertisement
PBoC's interest rate cuts
In an attempt to prop up its slowing economy, on October 23, the PBoC (People's Bank of China) cut its one-year benchmark bank lending rate by 25 basis points to 4.35%, effective from October 24. The one-year benchmark deposit rate was lowered by 25 basis points to 1.50%.
This was its sixth rate cut since November 2014, and so one can imagine how desperately China wants its economy to get back on a strong growth track. The bank also trimmed its RRR (reserve requirement ratio) by 50 basis points to 17.5%, making its fifth rate cut in RRR since November 2014.
On October 19, China's GDP (gross domestic product) data was released. GDP for 3Q15 stood at 6.9% below 7.0%, which was recorded in second quarter. China's aim to achieve its target of 7% growth rate in 2015 looks difficult due to slowing global demand for Chinese products and weak domestic demand. Hence, the PBoC loosened its monetary policy by cutting interest rates.
Apart from the rate cuts, the PBoC has also devalued the Chinese yuan in order to make domestic goods cheaper in the foreign market in a move to boost the exports. It took this step in August.
Article continues below advertisement
Declining exports orders in China
In September 2015, China's exports dropped by 3.7% on a YoY (year-over-year) basis. Its exports were down mainly due to weak global demand. A rise in labor costs is also making China less competitive in the global market.
Deteriorating manufacturing activity
Caixin China's Manufacturing PMI (purchasing managers' index) was down to 47.2 in September 2015, compared to 47.3 in August. The uncertainty regarding China is increasing fears of a global slowdown among investors. And, as a result, companies such as Apple (AAPL), General Motors (GM), Ford (F), and Nike (NKE), which have sizable revenue emanating from their operations in China, may see falls as well.
On a global level as well, nations are eying the Chinese economy, its stocks, and its related instruments closely. On that note, let's move to our chosen China-focused mutual funds' investment objectives and net asset details in the next part of this series.