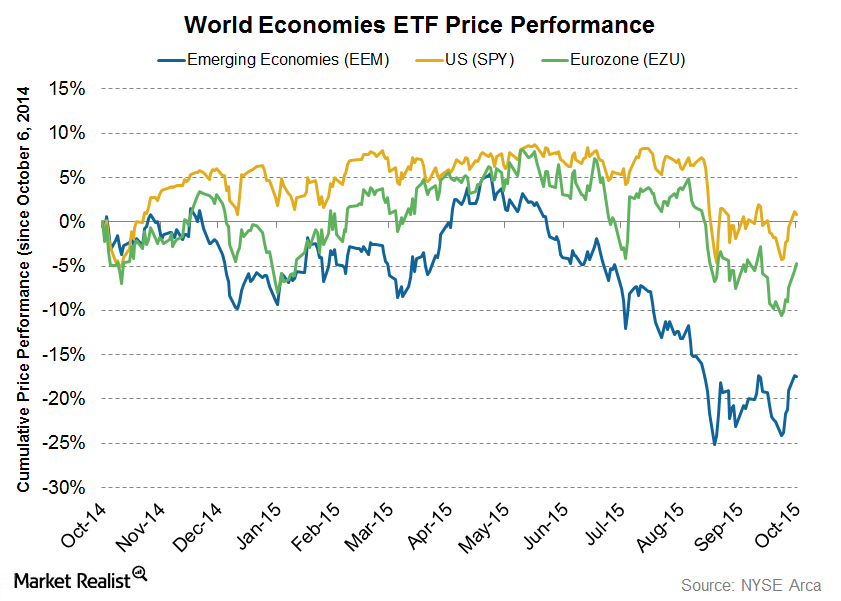 The China Slowdown and Global Growth Prospects for 2015
IMF's global growth projection
The IMF (International Monetary Find) has lowered its forecast of global growth for 2015 to 3.1%—an additional 0.2% below its projection in July 2015. Meanwhile, high inflationary pressures continue to adversely influence emerging economies (EEM) (EDZ) like Russia (RUSL) and Brazil, and the depreciation of these two countries' respective currencies against that of other major economies, in turn, has further impacted falling crude and industrial commodity prices. Then there's China, whose slowdown has not only pushed down manufacturing activity in emerging countries but has also moderated growth in developed countries.
In this four-part series, we'll analyze these factors—and more—behind the IMF's forecast and the slow recovery pace around the world.
Article continues below advertisement
EEM the worst performing ETF
As of October 6, 2015, the iShares MSCI Emerging Markets Index ETF (EEM) has been one of the worst-performing ETFs (exchange traded fund) among world economies. Over the past year, this ETF declined by 17.5% compared to the iShares MSCI Eurozone (EZU), which declined by 4.8% as of October 6.
During the same period, the SPDR S&P 500 ETF (SPY) increased by 0.77%, suggesting that US sentiment is rising. Companies like Facebook (FB), The Walt Disney Company (DIS), General Electric (GE), and Wells Fargo & Company (WFC) saw rises of 22.1%, 21.2%, 8.1% and 2.5%, respectively, on an annual basis as of October 6.
The larger picture
Economic activity in emerging economies is expected to be slower than in advanced economies, however, mainly due to falling crude and commodity prices, rising inflation, and depreciating currencies. As emerging economies are big exporters of commodities, they feel a profound impact from slower output growth. Russia's and Brazil's economic struggles, in particular, are results of structural issues, because restricted capital flows are not able to mint on depreciating currencies. On the other hand, currency depreciation often boosts exports in countries that have economic slack and more stable financial systems.
Article continues below advertisement
Although the manufacturing and service sectors are still expanding in developed countries, these are growing at moderate rates. Falling crude and commodity prices are keeping inflation low in the developed world. But the slowdown in China and other emerging countries is pushing down other economic activity. Meanwhile, job cuts continue to hamper consumer confidence and economic sentiment in these economies.
Improvements in 2016?
The IMF does, however, expect global growth prospects to improve in 2016, provided that recovery picks up its pace in developed countries. The outlook of emerging economies is also on course for improvement, although outlook continues to remain weak for China in 2016. In any case, the US economy is expected to lead the way toward economic recovery in 2016.
In the next part of this series, we'll take a look at how international trade is shaping up in the US.