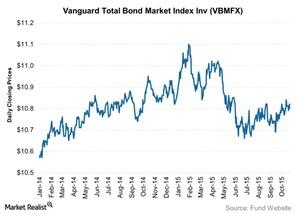 China Cuts Interest Rate, Investment-Grade Bond Yields Unchanged
By Lynn Noah

Updated
Investment-grade bond yields
Investment-grade bond yields remained muted in the week ended October 23, 2015, as China further eased its monetary policy. China cut its benchmark one-year lending rate for the fifth time in 2015. The People's Bank of China (or PBoC) slashed the one-year lending rate by 25 basis points to 4.4%, effective October 24. It made this move to help boost the slowing Chinese economy.
Article continues below advertisement
Upbeat housing data
US housing starts data were released on October 20, 2015. After that, investment-grade bond yields rose marginally. Housing starts were up 6.5% month-over-month and added 1.2 million units in September. This points to homebuyers returning to the housing market for the first time. However, new building permits were down by 5.0% in September.
Existing home sales data were also released on October 22. They were up 4.7% month-over-month and added 5.6 million units in September. The rise in home sales is positive for the entire economy, as it creates employment and demand for various goods and services.
FOMC meeting
Market participants will closely watch the results of the Federal Open Market Committee (or FOMC) policy meeting on October 27–28 for anything regarding the interest rate.
Yield movement
Corporate bond yields, as seen by the BofA Merrill Lynch US Corporate Master Effective Yield, ended on October 23 at 3.4%, unchanged from the previous week.
The Vanguard Total Bond Market Index Fund – Investor Class (VBMFX) provides a broad exposure to US investment grade bonds. VBMFX invests in investment-grade corporate bonds of companies such as Apple (AAPL), Wal-Mart Stores (WMT), Bank of America (BAC), AT&T (T), and Oracle (ORCL).
Although yields remained flat in the week ended October 23, the weekly return for VBMFX was down 0.05%.
We'll look at investment-grade corporate debt issuances for the week ended October 23 in detail in this series. But first, let's take a look at how yields on corporate bonds have fared in 2015 so far.