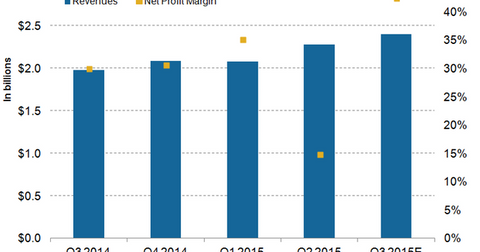 Celgene 3Q15: Analysts Project Strong Revenue Growth
By Margaret Patrick

Oct. 28 2015, Published 11:03 a.m. ET
Strong revenue growth
On November 5, 2015, Celgene Corporation (CELG) will announce its 3Q15 earnings result for the period ending September 30, 2015, Wall Street has estimated Celgene's 3Q15 revenues to be about $2.4 billion, a strong growth of about 21.2% on a year-over-year (or YoY) basis. In 3Q15, Celgene is expected to register a net profit margin of ~42.4%, substantially higher than that earned by Biogen (BIIB) at 34.1%, as well as the margin projected for Amgen (AMGN) at ~34.2%, but lower than that projected for Gilead Sciences (GILD), at ~54.7%.
Article continues below advertisement
Hematology and oncology market
Celgene has a strong presence in the hematology and oncology market in the United States. The company earns about 84% of its total revenues from the multiple myeloma (or MM) market. Revlimid accounts for ~65% of Celgene's total revenues. Celgene's profit margins are thus heavily dependent on this drug, currently accounting for more than 50% share in the US MM market.
Until recently, Revlimid was only used as a second-line treatment for MM. But on February 18, 2015, the Food and Drug Administration (or FDA) approved the drug in combination with dexamethasone as a first-line treatment for newly diagnosed MM patients. This expanded indication is expected to add 10 to 15 market share points to Celgene's share of the MM market.
The company has another strong drug, Pomalyst, used to treat patients with advanced MM, whose disease has progressed despite being treated before with other cancer drugs.  Additionally, on April 24, 2015, Celgene—through subsidiary Celgene International II Sàrl—entered into collaboration with AstraZeneca, through the latter's subsidiary MedImmune Limited, to develop and commercialize an investigational medicine, durvalumab, for treating patients with blood-related malignancies.
Combining the commercial potential of Revlimid, Pomalyst, and durvalumab, Celgene has projected $10 billion peak sales for its hematology drug portfolio.
Diversification strategy
To reduce excessive reliance on the hematology and oncology segment, Celgene has added drugs such as Abraxane targeting breast and lung cancer, as well as anti-inflammatory drugs such as Otezla to its portfolio. Through its acquisition of Receptos announced on July 14, 2015, the company also added Ozanimod, a drug tested for ulcerative colitis and multiple sclerosis. This acquisition is expected to expand Celgene's footprint in the growing inflammation and immunology segment.
With strong products across multiple disease segments, Celgene is expected to register strong revenue growth in 3Q15. To know more about Celgene's business model, please refer to Celgene 101: Business Model.
Celgene accounts for 0.5% of The SPDR S&P 500 ETF's (SPY) total holdings.