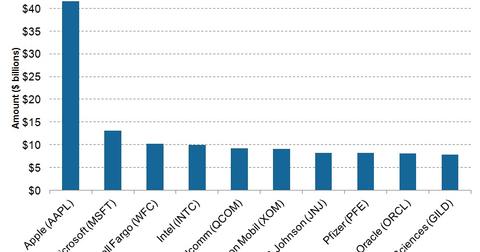 Carl Icahn: Low Interest Rates Have Created an Earnings Mirage
By Surbhi Jain

Updated
How companies create an earnings mirage
In his video warning investors of the "danger ahead," activist investor Carl Icahn stated that "the earnings that are being put out today, I think they're very suspect." Icahn believes that corporate America (IWM) has created an "earnings mirage" for investors.
According to Icahn, the quarter-over-quarter earnings guidance released by corporate America does not paint a true picture of the actual financial state of most corporations. The earnings guidance does not:
• talk about stock compensation
• address restructuring costs
• amortize intangible assets
• acknowledge takeover costs
Icahn stresses that many companies today blatantly hold back on these vital points of information. However, ideally, these points should be communicated to any current and prospective investors in the company.
Article continues below advertisement
Icahn on share buybacks
Companies follow a well-thought out process, solely intended to inflate their earnings. Low interest rates prompt them to borrow money and engage in buybacks and takeover deals, which lets them come out with flashy EBITDA (earnings before interest, tax, depreciation, and amortization) numbers. However, these numbers may not be sustainable over two or three years. In his video, Icahn referred to these earnings as "fallacious."
Buyback leads to stock price appreciation, as the EPS (earnings per share) gets rosier on account of the reduced denominator. However, for a company with a massive amount of debt on its balance sheet, such stock price appreciation may not be sustainable. As future earnings start to reflect the real financial strength of a company, investors start fleeing the stock, which leads to a U-turn in its rising price trend.
However, Icahn isn't all against buybacks. For companies like Apple (AAPL), which have significantly less debt and sit on a lot of cash, he has been a strong proponent for buybacks. Microsoft (MSFT), Nike (NKE), Johnson & Johnson (JNJ), and ExxonMobil (XOM) are some other companies with comfortable levels of leverage and good amounts of cash.
In his video, Icahn goes on to talk about the low interest rate regime leading to a condition of "financial engineering at its height." We'll look at this in the next part of this series.