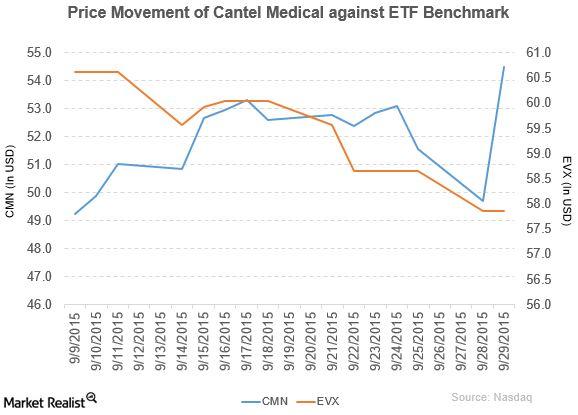 Cantel Medical's Revenue and Income Rose in 4Q15
By Gabriel Kane

Nov. 20 2020, Updated 11:14 a.m. ET
Cantel's price movement
Cantel Medical (CMN) has a market cap of $2.26 billion. Its YTD (year-to-date) price movement is rising day by day. After the earnings report in 4Q15, Cantel Medical rose by 9.60% and closed at $54.48 per share. The price movement on a weekly, monthly, and YTD (year-to-date) basis is 3.99%, 9.16%, and 26.20%, respectively. It's trading at 3.06% on a trailing five-day basis.
At times, it has broken the support of the 20-day and 50-day moving averages. Currently, it's trading at 9.02% above the 20-day moving average, 6.26% above the 50-day moving average, and 15.87% above the 200-day moving average.
Article continues below advertisement
The VanEck Vectors Environmental Services ETF (EVX) invests 3.80% of its holdings in Cantel Medical. EVX tracks a tiered and equal-weighted index of companies that stand to benefit from increased demand for waste management. The PowerShares S&P SmallCap Health Care ETF (PSCH) invests 1.99% of its holdings in Cantel Medical.
Cantel Medical's competitors and their market caps are:
Cantel Medical's performance in 4Q15 and fiscal 2015
Cantel Medical reported net revenue of $151.255 million in 4Q15—a rise of 6.88% compared to net revenue of $141.508 million in 3Q15. As a percentage of sales, the cost of sales fell by 1.81% in 4Q15. The gross profit and EPS (earnings per share) rose to $68.763 million and $0.32 per share in 4Q15—a rise of 8.12% and 6.66% on a quarterly basis.
In fiscal 2015, the company grew by 15.60%. The net revenue has been reported at $565.004 million in fiscal 2015. The gross profit margin rose by 2.79%. The net income and EPS have been reported at $47.953 million and $1.15 per share. The current ratio rose to 2.66 in fiscal 2015—a rise of 8.13% compared to the current ratio of 2.46 in fiscal 2014. The debt-to-equity ratio fell by 13.60% in fiscal 2015.
About Cantel Medical
Cantel Medical delivers innovative infection prevention and control products and services for patients and caregivers. Its product line includes medical device reprocessing systems for endoscopy adrenal dialysis, advanced water purification equipment, sterilants, disinfectants and cleaners, sterility assurance monitoring products for hospitals and dental clinics, and disposable infection control products primarily for dental and GI endoscopy markets.