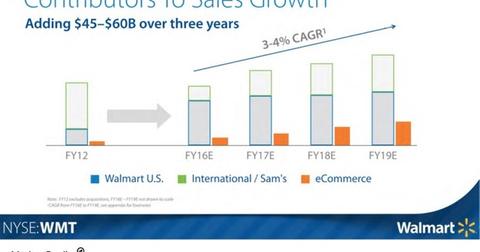 Can Walmart Achieve Its Three-Year Revenue Growth Target?
By Phalguni Soni

Updated
Walmart's latest sales projections
As we saw in Part 1 of this series, Walmart expects an incremental $45–$60 billion in sales over fiscal 2016–2019, an annual growth rate of 3%–4% compounded. Walmart US is expected to be a strong performer, partly due to the improving labor market, rising incomes, and lower prices at the pump.
Article continues below advertisement
Revenue drivers
Walmart's e-commerce is expected to grow the fastest of all the channels, with sales growth projected at 20%–30% per annum. Walmart's also looking at high-growth categories like health and wellness, fresh produce, and private brands to drive sales. It's stepping up its emphasis on convenience and improving the general ambience and cleanliness of its stores.
Organics, health, and wellness
The trend for organics and wellness foods is something peers Kroger (KR) and Target (TGT) are capitalizing on. Kroger's organics food brand, Simple Truth, clocked sales of $1.2 billion in 2014 within two years of its launch. Target is also looking to strengthen its organics offering in the wake of its pharmacies sale to CVS Health (CVS).
Whole Foods Market (WFM), an organics grocery chain, has seen sales grow at a CAGR (compounded annual growth rate) of 12.1% over the past five years. WMT, KR, and WFM together constitute ~7.4% of the portfolio holdings of the Vanguard Consumer Staples ETF (VDC).
Store count projections
Despite the bullish outlook for the United States, Walmart has scaled down its store expansion plans for its US segments from 249–282 originally estimated for fiscal 2016 to 231–252. The drop comes surprisingly in its smaller neighborhood format stores, which have been reporting the highest store comps (comparables) of all the store formats for several quarters. Read more about Walmart's capex (capital expenditure) plans in Parts 8 and 9 of this series.
According to comments by Charles Holley, Walmart's executive vice president and chief financial officer, Walmart (XRT) (RTH) is looking to locate its newer stores in more optimal locations than its larger superstores. It's also aiming at an improved fresh assortment and online fulfillment needs.