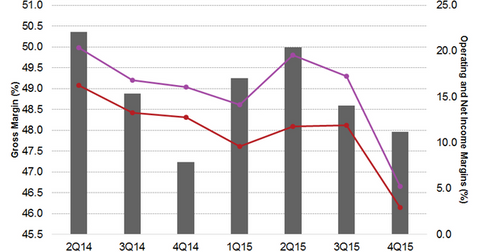 Can Procter & Gamble Expand Its Margins in 1Q16?
By Penny Morgan

Updated
Reported operating margin
Procter & Gamble (PG), or P&G, reported a slight improvement in the core gross margin in 4Q15. The company's core gross profit margin rose by 1.1% to 48% in 4Q15 compared to 4Q14. The core gross margin excludes incremental restructuring charges. The operating margin for 4Q15 was reported at 5.2%, compared to 16.1% in 4Q14.
Article continues below advertisement
Reason for the fall
The operating margin fell mainly due to the Venezuela charge of 11.4%. However, excluding all of the charges, the core operating margin rose by 0.9% to reach 18.1% in 4Q15 compared to 4Q14. The rise in P&G's core margin was due to productivity savings.
The selling, general, and administrative, or SG&A, expenses as a percentage of sales in 4Q15 fell by 0.1% to 31.3%. However, core SG&A expenses as a percentage to sales rose by ten basis points to 31%.
Cash flow productivity
Despite a weaker top line, P&G is placing emphasis on driving value creation and cash. P&G generated $11.6 billion in adjusted free cash flow, with 102% adjusted free cash flow productivity. P&G is one of the strongest cash generators among competitive peers and mega-cap companies like Unilever (UL), Colgate-Palmolive (CL), and Kimberly-Clark (KMB).
P&G's free cash flow fell by ~0.7% to $2.7 billion for 4Q15, while Colgate-Palmolive's free cash flow fell by ~79% to $0.3 billion for 2Q15. On the other hand, Kimberly-Clark's free cash flow for 2Q15 rose by ~150% to $0.5 billion. The end of the fiscal year for Procter & Gamble is on June 30, 2015. It's on December 31, 2015, for Colgate-Palmolive and Kimberly-Clark.
Transformational moves
At the Barclays Global Consumer Staples (XLP) conference, P&G highlighted its four transformational moves to revive its top line and improve its profitability. The four transformations were in:
productivity
supply chain
portfolio
rededication to category business models on superior product offerings
These transformations could help the company improve its margins and profitability in the current macroeconomic conditions. To learn more about P&G's updates on growth and transformational moves, please read A Procter & Gamble Investor Update: Growth and Transformational Objectives.
P&G has exposure in the SPDR S&P Dividend ETF (SDY). It accounts for 1.4%[1. Updated on October 14, 2015] of the portfolio's total weight.