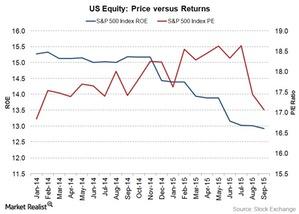 Can Corporate Profitability Alone Sustain US Stock Market Rally?
By Surbhi Jain

Updated
US equity has been soaring
Equity markets in the United States have demonstrated a neat rising trend over the past six years on the back of the Federal Reserve's monetary policy measures and corporate profitability. Monetary easing measures such as the Fed's bond (BND) buying program and zero bound interest rates have helped asset prices, including equities, soar to peak levels.
The S&P 500 Index (SPY) is up more than 60% over the last five years, providing good evidence of the US stock market rally. According to Standard & Poor's website, the S&P 500 is widely regarded as the best single gauge of large-cap US equities. More than $7.8 trillion worth of funds is benchmarked to the index.
S&P 500 Index component companies such as Starbucks (SBUX), NVIDIA (NVDA), and Juniper Networks (JNPR) have seen their prices rise by about 54%, 44%, and 43%, respectively, so far this year.
Article continues below advertisement
Is the growth sustainable?
While investment barons such as Bill Gross have been heard stating that asset prices in the US are "artificially inflated," Carl Icahn is worried that the current rate environment is "building bubbles."
However, since the Fed's asset purchase program came to an end in October 2014 and now investors are keenly awaiting the Fed to raise rates from its current zero lower bound level, market analysts have started wondering whether corporate profitability alone will be able to sustain the price surge in equity, not to mention, drive them higher. What about returns? Are they commensurate with the price being paid for these stocks?
While investors increasingly doubt the sustenance and growth of their profits from US equities, market analysts are busy searching for a scope beyond the United States. With the US equity market peaking, where can investors look for value?
Are US equity returns commensurate?
Take a look at the above graph. US equities' ROE (return on equity) has been declining, while prices have been largely rising since 2014. August's global stock market plunge did affect the PE (price-to-equity) ratio, leading to the slide from there onward. However, the point remains, aren't investors in US equities paying too much in exchange for declining returns as indicated by the market index?