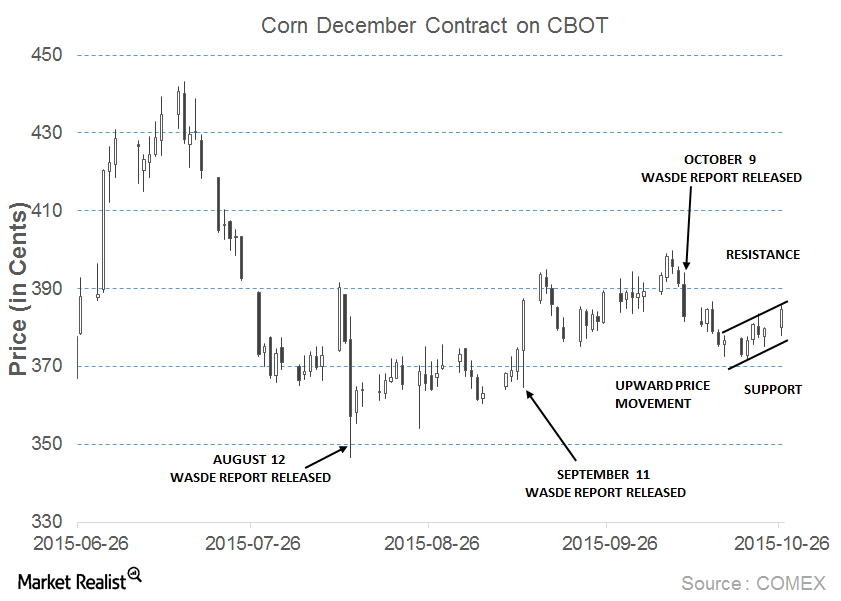 How Can Corn Prices Rally Above $4 Per Bushel?
Corn futures price
December contracts for corn futures trading on the Chicago Board of Trade (or CBOT) rose on October 26, 2015, and progressed on the upward price pattern. The sentiment in the corn futures contracts was targeting the weather conditions in the US Corn-belt before the harvesting activity fully completed, the movement of the US dollar to other currencies, and producers' decision to relieve the crop from the bins into the supply. Here, unfavorable weather changes might prove the speculators right. Hurricane Patricia has not realized its expectations of precipitation in the US Plains that might affect the corn due to wheat corn price relativity.
Article continues below advertisement
Support and resistance
The speculation of the weather would now turn their expectations to the total output at the end of the harvesting activities. The expectations would be a couple of weeks to determine the final figures of corn output by which the corn harvest might complete. On the consecutive second day, there was a rise in the corn futures volume by 15.1% on October 26, 2015. However, the open interests have continued to fall on the fourth consecutive trading day by 1.5%. Meanwhile, the pace of the open interest has fallen, with an open interest of 651,394 corn futures contracts on October 26. Corn futures prices would oscillate between 379 and 390 cents per bushel according to the support and resistance lines.
Hurricane Patricia
As Hurricane Patricia's rain expectations in the US Plains failed, the funds bought the vast portion of the wheat futures. The expectations are that the funds might shift to corn from wheat, and this could bring the rally in the corn futures. Corn might provide an investment opportunity with the rising basis advantage, supportive exports, as well as El Nino's impact, supporting the South American weather in Northern Brazil and Southern Argentina. Wheat futures might deliver the rally to corn futures.
Food business stocks
The stocks of Bunge (BG), Archer-Daniel-Midlands (ADM), and Tyson Foods (TSN) reversed the price trend and fell on October 26, 2015. They fell after a continuous rise in their six, two, and three trading days, respectively. However, the stock of ConAgra Foods (CAG) rose on October 26, 2015, continuing two trading days of rally hindered by a plunge of 2.6% on the previous day. The PowerShares DB Agriculture ETF (DBA) rose after three consecutive days of fall on October 26, 2015.