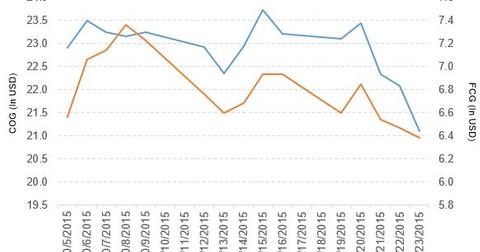 Cabot's Revenue and Income Fell in 3Q15
By Gabriel Kane

Updated
Cabot's price movement
Cabot Oil & Gas (COG) has a market cap of $8.7 billion. Cabot's YTD (year-to-date) price movement has been going down day by day in 2015. After the 3Q15 earnings report, COG fell 4.5% to close at $21.10 per share as of October 23, 2015, with a fall in revenue of 40.4% in 3Q15 compared to 3Q14. The price movements on weekly, monthly, and YTD bases are -9.1%, -12.5%, and -28.6%, respectively.
Technically, Cabot has broken support and is trading below all moving day averages. Currently, its 20-day, 50-day, and 200-day moving averages are -7.3%, -9.7%, and -26.2%, respectively.
Article continues below advertisement
The First Trust ISE-Revere Natural Gas ETF (FCG) invests 3.5% of its holdings in Cabot. The ETF aims to track an equal-weighted index of US companies that derive a substantial portion of their revenues from the exploration and production of natural gas. The YTD price movement of FCG is -41.1% as of October 22, 2015.
Below are the market caps of Cabot Oil & Gas's (COG) competitors.
Performance of Cabot Oil & Gas in 3Q15
Cabot Oil & Gas reported net revenue of $305.3 million in 3Q15, a decrease of 40.4% compared to net revenue of $512.0 million in 3Q14. The revenue from natural gas, crude oil and condensate, gain on derivative instruments, and brokered natural gas have decreased 35.9%, 28.5%, 75.9%, and 38.3%, respectively, in 3Q15 compared to 3Q14.
Net income and EPS (earnings per share) dropped to -$15.5 million and -$0.04, respectively, in 3Q15 compared to $100.8 million and $0.24, respectively, in 3Q14. The current ratio fell to 0.81, and the debt-to-equity ratio rose to 1.6 in 3Q15 compared to the current ratio and debt-to-equity ratios of 0.91 and 1.6, respectively, in 2Q15.
On July 22, 2015, Cabot declared a regular dividend of $0.02 per share on Cabot's common stock.
Article continues below advertisement
According to Dan O. Dinges, chairman, president, and CEO (chief executive officer) of the company, "Even in the face of persistent headwinds resulting from lower commodity prices, Cabot continues to deliver positive operating results while lowering our cost structure through an improvement in operating efficiencies and a strict focus on capital discipline."
About Cabot Oil & Gas
Cabot Oil & Gas is an independent oil and gas company that focuses on the development, exploitation, and exploration of oil and gas properties.