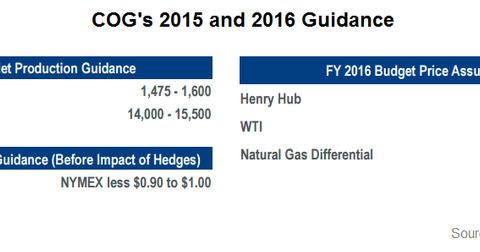 Cabot Oil and Gas's Guidance for Production and Capital Spending
By Keisha Bandz

Updated
Cabot Oil and Gas's Guidance for Production
Cabot Oil & Gas (COG), in its 3Q15 earnings conference, announced its updated 2015 production growth guidance of 12%–14%, adjusted from 10%–18% in the second quarter. The company noted that this adjustment reflects its fourth-quarter price outlook, and its curtailment efforts on its Marcellus shale production.
Article continues below advertisement
Further details
The fourth-quarter net production guidance is 1,475–1,600 MMcf (million cubic feet) per day for natural gas and 14,000–15,500 barrels per day for liquids.
The company expects its 4Q15 volumes to rise by 5% sequentially. However, volumes would fall year-over-year as a result of the company's efforts to curtail production in light of falling commodity prices. Natural gas price realizations in 4Q15, before the impact of hedges, are expected to average between $0.90 and $1.0 below NYMEX (New York Mercantile Exchange) settlement prices.
For 2016, Cabot Oil & Gas has provided a production growth guidance of 2%–10%. The low end to midpoint assumes that its price realizations remain low throughout 2016, and as a result, the company will continue to curtail its production. The high end assumes improved price realizations, reflecting production that is not curtailed, without any additional capital spending. The company has based this growth range on its E&P (exploration and production) capital budget of $615 million. The company also anticipates ~$150 million equity investment in its Constitution and Atlantic Sunrise pipeline projects.
Article continues below advertisement
Cabot Oil and Gas's Guidance: Capital Spending
Cabot Oil & Gas has reduced its 2015 capital program to $850 million from $900 million. The reduction was a result of a lower planned level of activity that the company will engage in 4Q15. It's also a result of cost reductions, improving efficiencies, and reduced service costs.
In contrast, Southwestern Energy (SWN) maintained its 2015 capital budget of $1.88 billion, falling from $2 billion in the previous quarter. Cabot Oil & Gas makes up ~0.6% of the iShares North American Natural Resources ETF (IGE). Its peers Southwestern Energy, Antero Resources (AR), and Range Resources (RRC), respectively make up~0.3%, ~ 0.1%, and 0.3% of the IGE ETF.
As mentioned before, the company is lowering its capital budget to $615 million in 2016. 93% of this budget will be allocated to drilling, completion, and facilities, of which 74% will be allocated to the Marcellus shale and 26% to the Eagle Ford shale. The company expects to drill 60 net wells in 2016. This includes the 50 net wells in the Marcellus shale, and the 10 net wells in the Eagle Ford shale. The company expects to complete ~90 net wells in 2016, including 65 net wells in the Marcellus shale and 25 in the Eagle Ford shale.