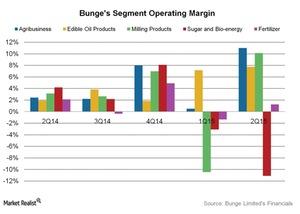 Bunge Limited Management's Expectations for the Second Half of 2015
Expectations for the fiscal year 2015
Looking ahead at the second half of 2015, Bunge Limited's (BG) management expects full-year Agribusiness EBIT (earnings before income and tax) to exceed $1 billion from $464 million as of June 30. Demand for soy meal and soy oil remains solid, supporting a promising soy crush outlook. The "Brazilian Safrinha" corn crop is large and current local prices are encouraging farmers to sell. Based on present crop conditions in the Northern Hemisphere, there should be ample supplies to drive an expansion in global trade and high asset utilization.
Article continues below advertisement
Expected improvements
The Food and Ingredients segment is also expected to show improvement from the first half of 2015 but might fall short of last year's second half. The Sugar and Bioenergy segment is moving into its seasonally stronger period when sugar and ethanol production rise. Based on current robust domestic ethanol consumption in Brazil, the company has more confidence that it will end the year with positive EBIT and cash flow.
In a press release, Bunge's management also stated that the company continues to make strides in driving greater efficiency through performance improvement initiatives, having generated approximately $50 million of year-to-date benefits. The rolling four-quarter ROIC (return on invested capital) for their core Agribusiness and Food operations was 9.6%, continuing to track well above their 7% cost of capital, and they expect returns of ~10% for the full year.
Article continues below advertisement
The company forecast a rebound in the back half of the year, partly due to substantial soy processing margins in China. The rebound expectations come mainly from large crops in the United States and the Black Sea region, believed to be providing the company with ample supplies for trading and processing.
Analysts' estimates for 3Q15
The average estimate for revenue for 3Q15 is at ~$12.7 billion and for the fiscal year is ~$48.1 billion. The analysts that follow this company are expecting it to grow earnings at an average annual rate of ~13.1% over the next five years.
Bunge's peers include Generall Mills (GIS), Campbell Soup (CPB), ConAgra Foods (CAG), and Flowers Foods (FLO). Analysts' average estimates for EPS (earnings per share) for these companies for their upcoming quarter are $0.83, $0.76, $0.6, and $0.23, respectively. The Guggenheim S&P Equal Weight Consumer Staples ETF (RHS) invests 2.8% of its portfolio in Campbell Soup while the iShares US Consumer Goods ETF (IYK) invests 0.42% of its portfolio in CPB.
Outlook for the second half of 2015
Bunge's management commented that they expect a strong second half in Agribusiness with full year segment results exceeding $1 billion. In the Oilseeds segment, the margins are good in South America and the United States. Also, solid underlying demand for soy meal and soy oil should continue to support a favorable crushing environment. While China's soy crush margins have come down from the levels seen for most of the second quarter, they are well above where they were for most of last year. European sun-seed crush margins should improve with the arrival of harvest. However, rapeseed margins may continue to be held back by smaller production and low vegetable oil prices.