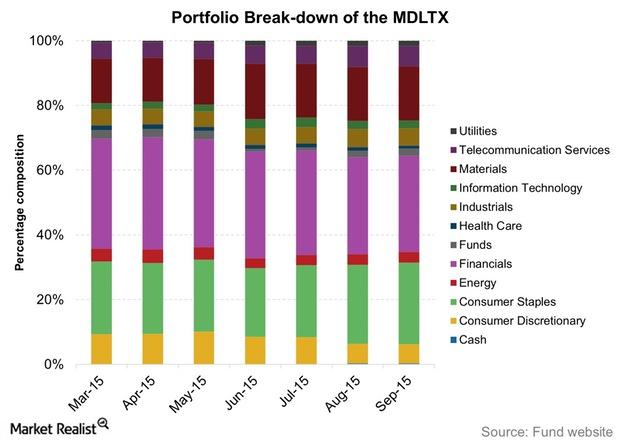 The BlackRock Latin America Investor A Fund (MDLTX): Portfolio Overview
By David Ashworth

Oct. 30 2015, Published 4:37 p.m. ET
Overview
The BlackRock Latin America Investor A Fund (MDLTX) seeks long-term growth of capital by investing "primarily in Latin American equity and debt securities."
The fund does not seek to spread its portfolio across a large number of countries in Latin America. It adopts both top-down and bottom-up research approaches while constructing its portfolio. The top-down approach lets the fund manager select potentially outperforming markets while the bottom-up approach helps the manager select individual securities.
Article continues below advertisement
MDLTX's assets were invested across 66 holdings as of September 2015, when it was managing assets worth $157.78 million. As of September, its equity holdings included Itaú Unibanco Holding SA (ITUB), BRF SA (BRFS), Fibria Celulose SA (FBR), and Telefônica Brasil SA (VIV), which made up a combined ~12% of the fund's portfolio.
Historical portfolios
For this analysis, we'll be considering holdings as of August 2015, as this is the latest sectoral breakdown available to us in October 2015. MDLTX's holdings after August reflect valuation-driven changes to the portfolio, not the actual holdings. In the graph above, the sectoral composition for September 2015 has been taken from the fund house's website.
The fund is invested across sectors. Below is a breakdown of MDLTX's holdings and adjustments as of September 2014:
Financials and consumer staples sectors have the two largest exposures in the portfolio, respectively, and form a combined 55% of the fund's assets. The materials sector has the third-biggest exposure in MDLTX. All other sectors have less than 7% exposure apiece.
Over the course of one year preceding September 2015, the fund's exposure to the consumer staples sector increased from 20% to 25%.
Materials stocks used to make up 11% of the fund one year previously. The sector now forms over 16% of the portfolio.
Telecom services, information technology, and utilities saw their portfolio weights increase compared to September 2014.
On the other hand, the weight of the consumer discretionary sector nearly halved during the year leading up to September 2015.
Energy and financials saw their respective shares reduced during the same period.
But how did these portfolio moves benefit MDLTX? Which sectors contributed most and least to the fund's performance as of September 2015?
Continue to the next part of this series to find out.