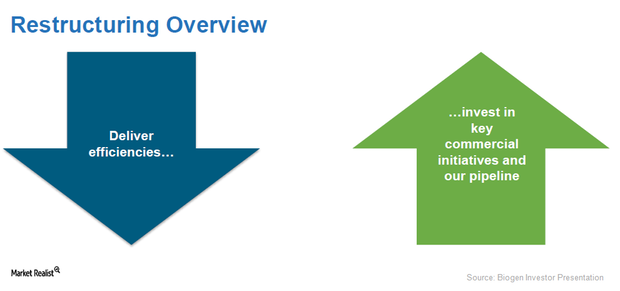 Biogen Announces Corporate Restructuring Program
By Margaret Patrick

Oct. 31 2015, Updated 10:06 a.m. ET
Corporate restructuring program
On October 21, 2015, Biogen (BIIB) announced a corporate restructuring program, which will involve termination of some research programs and reduction of the total workforce by 11%. This is expected to result in a decrease in Biogen's (BIIB) annual operating expenses by about $250 million.
The company expects that these restructuring activities may result in a charge of about $85 to $90 million.
Article continues below advertisement
Deliver efficiencies
To reduce total operating expenses and focus resources on high-potential investigational medicines, Biogen has terminated a few pipeline programs, such as Tecfidera for SPMS (secondary progressive multiple sclerosis), its anti-TWEAK program, and certain research programs in immunology and fibrosis. Biogen plans to generate additional non-labor expense savings in 2016.
Biogen has reduced its personnel count mainly to increase consolidation and subsequent duplication of work among the various functions such as analytical and operational support and marketing. Biogen also adopted resizing measures in manufacturing and commercial operations outside the United States to reduce excess capacity. The company plans to complete the workforce reduction by end of 2015. Peers such as Celgene Corporation (CELG), AMGen (AMGN), and Gilead Sciences (GILD) are also actively involved in reducing their operating expenses to boost profit margins.
Investing initiatives
Biogen expects to use the savings generated from restructuring for various commercial initiatives and for developing mid-stage and late-stage pipeline drugs. Commercial initiatives involve increased marketing efforts such as television campaigns for Tecfidera, and continued research for Alzheimer therapies Aducanumab and E2609, ISIS-SMNRx for spinal muscular atrophy, anti-LINGO for multiple sclerosis, Raxatrigine for trigeminal neuralgia, and the recently acquired MT-1303 for autoimmune diseases.
Instead of directly investing in Biogen and being exposed to any company-specific risks, you can invest in the company through the SPDR S&P 500 ETF (SPY). Biogen accounts for 0.4% of SPY's total holdings.