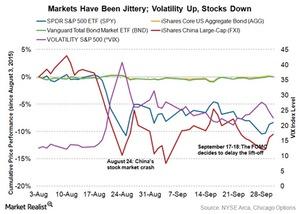 Bill Gross Says the Fed Must 'Get off Zero'
The Fed chose to extend the normalization process
While bond and stock investors in the US were getting jittery about the probability of a rate hike in September, the Fed chose to defer the much-anticipated normalization longer. Volatility in the US stock markets (SPXS), as gauged by the Volatility S&P 500 Index (SPY), has been on the higher side lately. It peaked on Monday, August 24, when China's (FXI) stock market fell. While market volatility, VIX, rose over 45%, the Shanghai Composite fell 8.50% and the S&P 500 Index fell ~4% on "Black Monday."
Article continues below advertisement
A rate hike in the US will likely send bond and equity prices down. Equity would be hit because funds would flow to safe-haven Treasuries (TLT). They would give better yields after a rate hike. Bond prices fall when yields rise. The reverse also holds true. The iShares Core US Aggregate Bond (AGG) and the Vanguard Total Bond Market ETF (BND) have been rising since the Fed decided not to hike the rates just yet. However, the stock market is still down as hopes build for a rate hike in December. The heightening global uncertainty is a definite deterrent to growth in the US.
Bill Gross shares his investment outlook for October 2015
Investors often look for important clues about the economy and its likely trend in investment baron and legendary fund managers' comments. Bill Gross expressed his views on the markets and on the Fed's decision to delay the rate hike in his Investment Outlook October 2015. Currently, the legendary fund manager manages the $1.4 billion Janus Unconstrained Bond Fund at Janus Capital (JNS). He's also the co-founder of PIMCO (Pacific Investment Management Company. He was associated with PIMCO until September 2014. PIMCO manages ~$1.7 trillion worth of assets. At Janus, Gross releases a monthly investment outlook.
In his September 2015 outlook, Gross talked about the "Fed's 'tightening' cycle" and why it seems "too little, too late." In our series Ray (Dalio) of Hope for Bond Investors or (Bill) Gross Delay in Raising Rates? we covered his September outlook.
In this series, we'll take you through his investment outlook for October 2015. We'll support his beliefs and arguments with our own analysis where required. Let's start by analyzing why Gross thinks the Fed needs to "get off zero and get off quick."