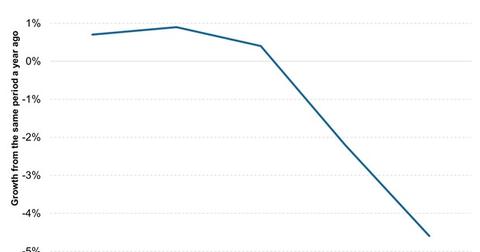 The Big Bear: Russia in Recession
By David Ashworth

Oct. 7 2015, Published 10:59 a.m. ET
Russia in recession
The World Bank released a report on the Russian economy on September 30, 2015, titled "Balancing Economic Adjustment and Transformation." In it, the Bank notes that the recession in Russia began in 4Q14. The sharp drop in crude oil prices and international sanctions on the country took their toll on its economy.
Technically, the Russian economy entered recession in 2Q15, when its economic growth receded by 4.6%.
Article continues below advertisement
Domestic demand hurts
Domestic demand in Russia contracted sharply and was one of the primary reasons for Russia's landing in a recession.
According to data from Russia's Federal State Statistics Service, or Rosstat, household consumption contributed -5.0% to the 2.2% contraction in economic activity in 1Q15. To put this into perspective, consumption had contributed -2.5% to a contraction of 7.8% in economic activity in 2009, when the Great Recession had taken hold.
Retail and wholesale trade is the largest sector in the Russian economy. It contracted by 9.3% on the year in 1H15 compared to a 0.6% rise in 1H14.
The mood of consumers was also reflected in a sharp drop in consumer confidence. The consumer confidence index calculated by Rosstat fell from -11 in 1Q14 to -32 in 1Q15.
Business investment is impacted
Business investment saw a major impact from falling consumer demand. Businesses anticipated a fall in consumer demand and reduced their investments as a result. They were already reeling under pressure from a fall in energy prices, and a fall in consumer demand further reduced investments.
Fixed investment fell by 8.8% in 1Q15, contributing -1.2% to Russia's economic contraction in 1Q15.
A fall in crude oil prices, which has impacted companies such as ConocoPhillips (COP), Kinder Morgan (KMI), Total S.A. (TOT), and Chevron (CVX), has played a pivotal role in placing Russia in recession. It has also impacted Russia-focused mutual funds such as the Voya Russia Fund – Class A (LETRX). Let's explore this aspect of Russia in the next article.