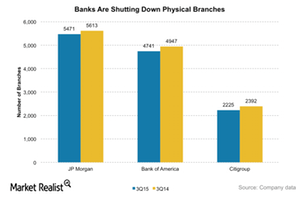 Banks Cut Costs and Improved Efficiency to Remain Profitable
By Rebecca Keats

Updated
Lower expenses drive banks earnings
One of the key drivers of US banks' earnings during the quarter were lower expenses. The prevalent zero-interest-rate environment is acting as a drag on bank earnings. US banks (KBE) (FNCL) earn lower returns on their assets, as well as lower interest-based income, when interest rates are low.
In order to boost profitability in a low–interest rate environment, banks are reducing expenses by restructuring their businesses and focusing on their core businesses.
Article continues below advertisement
Banks close branches to save costs
Banks are also cutting down on numbers of physical branches and relying increasingly on online and mobile banking. In 2015 so far, JPMorgan Chase (JPM) has reduced its numbers by 142 branches and 10,000 employees as cost-cutting measures. Similarly, Citigroup's branch count has fallen by 13% over the year.
Bank of America (BAC) has been the most aggressive compared to its rivals in shutting down branches and moving toward mobile and online banking. Its number of branches had shrunk by 4.4% to 4,741 as of September 2015 over the last one year.
Its number of ATMs (automated teller machine) has, however, increased by 2.5%. The bank has cut down its employee count by 7% over the past year. The growth of mobile and internet banking has facilitated the process of downsizing physical branches.
Bank of America's chief executive officer Brian Moynihan recently said that it costs 90% less to process a mobile transaction than a branch-based one. JPMorgan, Bank of America, and Wells Fargo (WFC) all reported double-digit annual growth rates in mobile banking users.
For the third quarter, Bank of America's operating expenses fell by 4% year-over-year, while Citigroup cut its operating expenses by 18%. JPMorgan's operating expenses fell by 3%.