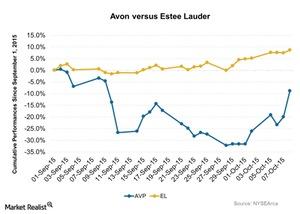 Avon Products Led SPY by 14%
Avon Products led SPY by 14%
The SPDR S&P 500 ETF's (SPY) top stocks were Avon Products (AVP), Denbury Resources (DNR), and Joy Global (JOY). The stocks rose by 14%, 12.2%, and 8.4%, respectively, on October 8.
Avon Products (AVP) reported growth in sales in the EMEA (Europe, the Middle-East and Africa) region. Avon's significant growth was in Russia. Its average orders rose by 2% for 2Q15. The stock is highly volatile. Avon closed at $4.33 and crossed its 20-day moving average. After going through many ups and down, Avon managed its trailing five-day return of 33.2%. The stock is rated as "stable" by Standard & Poor's. It earned three "buy," 12 "hold," and no "sell" recommendations.
The above graph shows Avon's performance compared to Estee Lauder (EL) in the same cosmetic segment.
Article continues below advertisement
Other top stocks
Denbury Resources (DNR) rose due to rising oil prices. Investors anticipate a slowdown in the US oil production in the wake of the oil inventory buildup report.
Joy Global is into mining and machinery. It was rated as "BBB" by Standard & Poor's. The company is expected to generate moderate positive free cash flow despite the cyclical downturn in the mining industry. Standard & Poor's maintained a "negative" outlook towards Joy Global. This implies a potential lowering of the rating if company's credit measures weaken. Joy Global's trailing five-day return was 29.3% as of October 8. It has earned six "buy," 15 "hold," and three "sell" recommendations.
The laggards
The stocks at the bottom of SPY were eBay (EBAY), Tenet Healthcare (THC), and Cigna (CI). These stocks yielded -6%, -2.5%, and -2.2%, respectively, on October 8.
eBay fell on Thursday after its e-commerce rival Amazon (AMZN) launched its own handmade craft site. Amazon is eBay's direct competitor. The stock's trading volume rose to 48,539,520 on October 8 from 11,440,476 the previous day.
Tenet Healthcare is a biotech stock. It was downgraded by Barclays Capital on October 8. The stock underperformed the S&P 500 Index. It was granted a "negative" outlook by Moody's.
Next, we'll look at the United Kingdom's stock market.