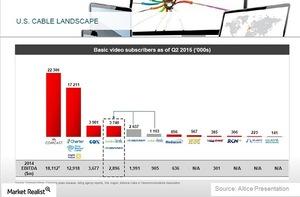 How Atlice's Acquisition of Cablevision Affects US Cable Industry
By Shirley Pelts

Oct. 15 2015, Updated 1:04 p.m. ET
Fourth largest cable operator
The acquisition of Cablevision (CVC) by Altice will create the fourth-largest cable operator in the United States. Currently, the US cable industry is already feeling increasing competitive pressure from over-the-top players such as Netflix (NFLX). Players such as Netflix have resulted in increasing subscriber losses for media and cable companies.
Altice has already stated that it intends to replicate the European quadruple play model in the United States. Quadruple play is the bundling of high-speed Internet, television, land line, and mobile services in one package. Altice has also stated that it has not ruled out the acquisition of a US wireless mobile carrier shortly.
Article continues below advertisement
Currently, the US cable industry is undergoing a consolidation of sorts. This consolidation trend started with Charter Communications's (CHTR) acquisition of Time Warner Cable (TWC) and the merger of DIRECTV (DTV) with AT&T (T). A quadruple play option could further fuel this consolidation, as cable companies may merge with wireless carriers to offer quadruple play and reduce their network buildout costs in the process.
Quadruple play would change the dynamics of the US cable industry
If Altice does succeed in replicating this model, it will change the dynamics of the cable industry. Currently, the US cable consumer is paying around $100–$150 per month for triple play—the bundling of high-speed Internet, television, and voice services into one. A quadruple play option would bring this cable bill down further. In fact, one of the reasons for US cable consumers moving to companies such as Netflix has been the higher charges for cable.
Quadruple play could also reduce customer turnover. For example, Cablevision already has a strong broadband penetration in the greater New York area, but this high penetration rate reduces the additional number of homes to which the company can market its services. To reduce customer turnover, a cable company such as Cablevision has to offer innovative products or better services and increase average revenue per user, or ARPU, in the process.
Altice's quadruple play offering could raise the ARPU for the combined entity of Altice's US assets—that is, Cablevision and Suddenlink.
It could also force OTT (over-the-top) players such as Netflix to rethink their business strategy, as original content alone would not be sufficient to retain customers.
You can gain diversified exposure to Cablevision by investing in the Consumer Discretionary SPDR ETF (XLY), which invests 0.33% of its holdings in the stock.